Luxury floral décor just adds to the look and feel of any ambience of the place. A renowned antique shop required us to create exotic flower arrangements that would enhance the vibe of the place. The clients from the old-world-charm shop were interested in a deconstructed, wild theme. What is the unruliest place in the world, a thought crossed our mind? The forest! That's from where our inspiration came from.
For one event, vase decoration was the chosen look. Deep colour florals fully fitted the requirements of the theme. Purple hydrangeas, red roses, statice, marigold, and santini and lots of eryngium, eucalyptus and Ivy looked oh so amazing together!
Luxury Flower Decor for Table and Urn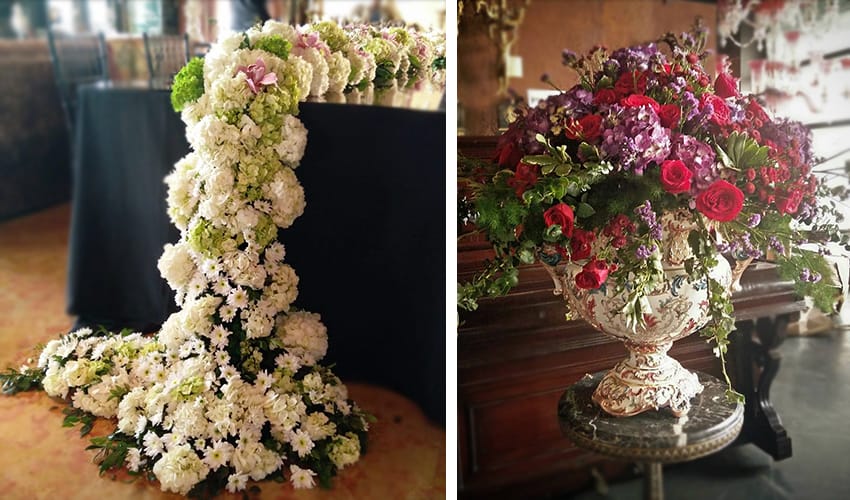 A rustic Victorian styled urn was selected as the base for the flower set up. The deep-hued flowers together with greens were placed as they grow in forests. For an added disorderly effect, the florals and leaves were made to fall out of the vase.
The next event was a dinner party. A walk in a beautiful garden adorned with beautiful exotic blooms was the inspiration for this dinner gathering. For the dinner event, a 20ft tablescape of flowers was created. It was embellished with hundreds of hydrangeas in whites and greens. To give texture to the setup, cymbidium orchids and chrysanthemums were added. It was laid at the centre of the table. The remaining tablescape was made to gently flow down from the end of the table onto the floor, resembling the base of a waterfall which looked breathtaking.