Transforming spaces into something unexpectedly splendid is what is expected from Interflora. Creating exotic floral designs at the Createch Conference by The British High Commission was an awesome experience. It was a sit-down lunch for the women entrepreneurs with the H.R.H- Prince Edward, The Earl of Wessex.
Given the high importance and royalty of the event and the delegates that would be attending it, everything had to look just picture perfect. To give the setup a classy and rich look red hue, shades of pinks and whites were elaborately used. The flowers picked were white hydrangeas, disbuds, button chrysanthemum, roses, cymbidium orchids, Phalaenopsis orchids, wax flowers and calla lily.
Pretty Flower Arrangement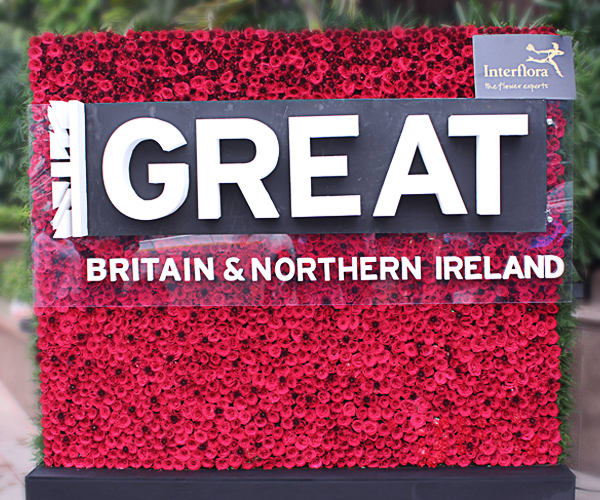 Not just inside, the Interflora floral designs spelt magic outside too. At the entrance, a stunning wall of red flowers behind the words Great Britain & Northern Island looked impressive and attracted visitor's attention. Fresh flowers that adorned this wall were red roses, disbuds, and button chrysanthemums which showcased great work of art.
Decorating stage and tables with exotic flowers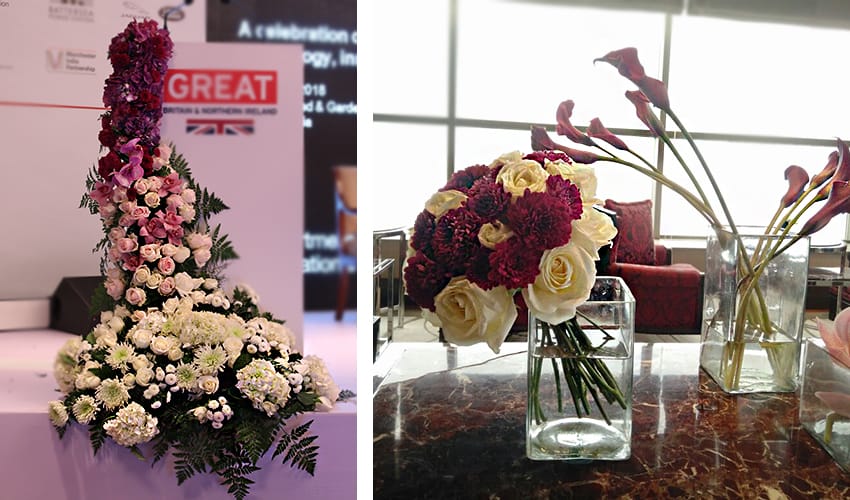 The stage podium was where most of the limelight would be. A spectacular waterfall of flowers with intricate designs worked perfectly well for this area. The top part was designed in a leaner style and decorated with flowers from the dark red and purple colour family. The middle part got slightly wider and lighter with shades like pink and white making an entry into it. The bottom part appeared fuller and broader and was covered completely with white flowers. This play of colour and the near perfect appearance of a waterfall had the desired effect on the onlookers.
Table Centrepiece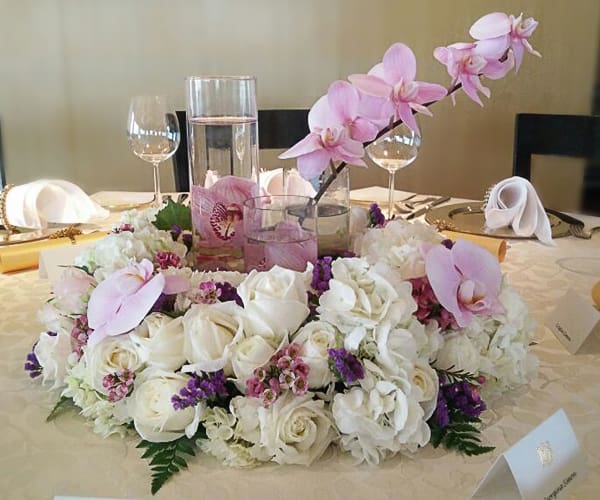 A table with a centrepiece of cymbidium orchids was what held the diner's attention next. The area was ornamented with three pillar glass vases filled with water and luxury floral beauties inside on the dining table. Two vases were made to look awe-inspiring with one flower each being dropped into the water. In another, a bunch of exotic bloomers adorned the vase. The bunch of orchids were arranged to tilt on one side. As a finishing touch, a bouquet of white roses, calla lilies, white hydrangeas, phalaenopsis orchids, waxflower, etc. with green leaves around them were laid open adding that extra charm. And how these arrangements just left the visitors mesmerised!