Meeting friends and family for a Christmas brunch is a delightful affair. The floral arrangement at Conde Nast's Christmas Brunch was just what the client had expected it to be. The client wanted a classy and suave floral arrangement for their afternoon feast. The Christmassy vibe of the occasion inspired us to go for a red, green and golden colour palette because of their great synonymy with Christmas. The brunch was for a big name, and so it had to be grand. It was hence important to choose exotic flowers that spelt luxury and grandeur. The occasion was graced by floral beauties such as red roses, green hydrangeas, red hypericum berries, eryngium, carnations, cape mix, Vanda orchids and statice or sea lavender.
Beautiful Flowers and Leaves Arrangement
It was an awesome experience decorating the place with these luxury flowers. Because of the usage of bright flowers along with greens, we decided to place them in vase setups to not make it overwhelming for the eyes. Trendy, transparent vases of different shapes and sizes enhanced the look and feel of the entire setup. For the right colourful effects, different bouquets comprising of handpicked mixed flowers were placed across the entire venue.
Classy Flower Arrangement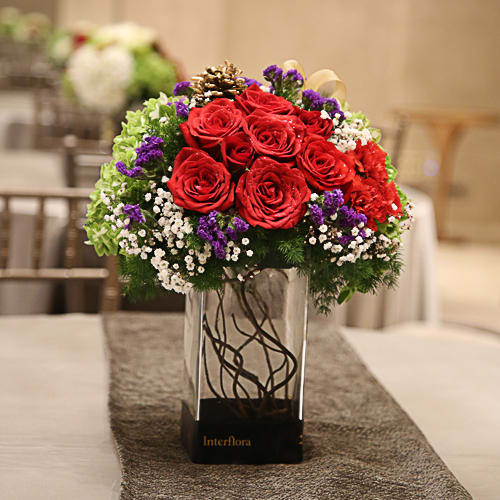 The dining area was the highlight of the venue, and all the guests were to meet and greet each other on this table, and it had to have that special attention from us. This area was adorned with a vase of red roses, green hydrangeas, red hypericum berries and cape mix. For another area, a combination of carnations with sea lavender, Vanda orchids, and red roses were used. At some places, two vases with a different combination of flowers enhanced the beauty.
Royal Flowers
And what is a Christmas celebration without decoratives! To bring that real Christmassy spirit and cheer, the vases and the floral arrangements were filled with decoratives like golden balls, cinnamon sticks, roots, and salix sticks. Cute golden ribbons and the trademark black Interflora ribbons added the perfect finishing touch to the lovely arrangements. Thus the skilful and accomplished florists weaved their magic again and will continue to do so!
Flowers Arranged With Ornaments