Love your flowers or receiving those delightful flower arrangements? It's time to bring out the creativity hidden within you and give a personal touch to your blooming beauties with your own DIY vases. Making vases at home is all about fun and ideating new & beautiful designs. There's no hard work at all. You will just love the process. You rarely find someone who isn't a big fan of flowers. If you are one of them, this piece of writing will for sure change your mind. A house full of flowers is always a treat to the eyes, but only when they are arranged in beautifully designed vases. When you land in the market to get flower vases for your homes, the highly quoted prices come in your way. Trust us, even the bargained rates are too much to be given away for the vases. So, we have come up with some unique ideas that will help you make the best fitting & blending vases for your flowers.
Plastic Spoon Vase
Flaunt the seasonal blooms with a vase made from plastic spoons and an empty metal can. An empty coffee can and a handful of plastic spoons reused and applied with the desired colours. Your vase is ready to be used.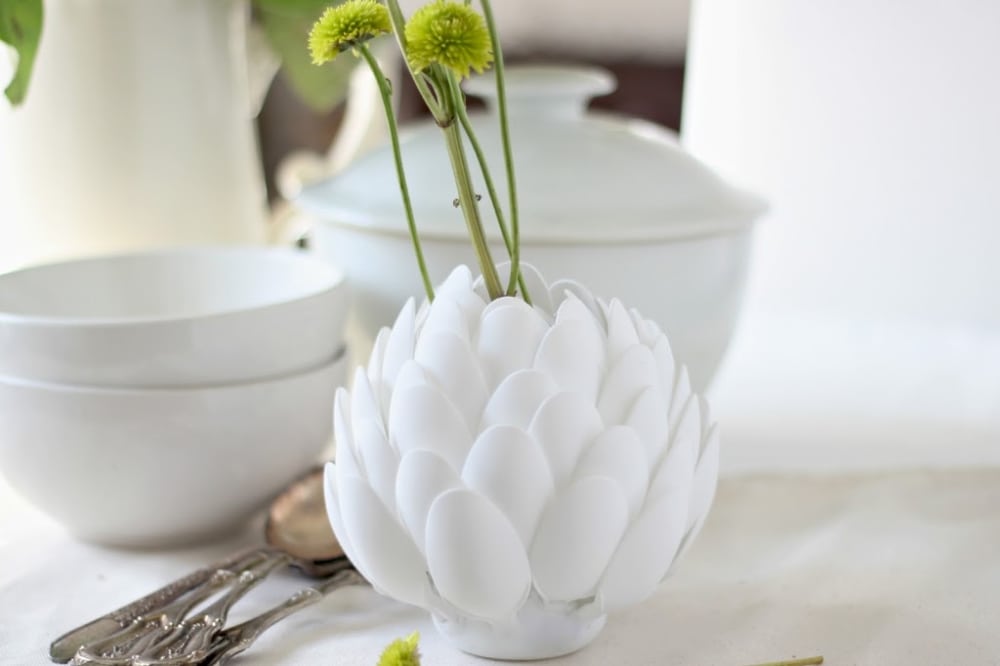 images: http://www.craftberrybush.com/wp-content/uploads/2012/09/IMG_9165.jpg
Pineapple Vase
When it's summer, life is a relief with some fresh pineapples. Just scoop the entire edible part out and prepare your favourite summer smoothies. Now, you can use the left out portion as a temporary vase to show off your favourite collection of flowers.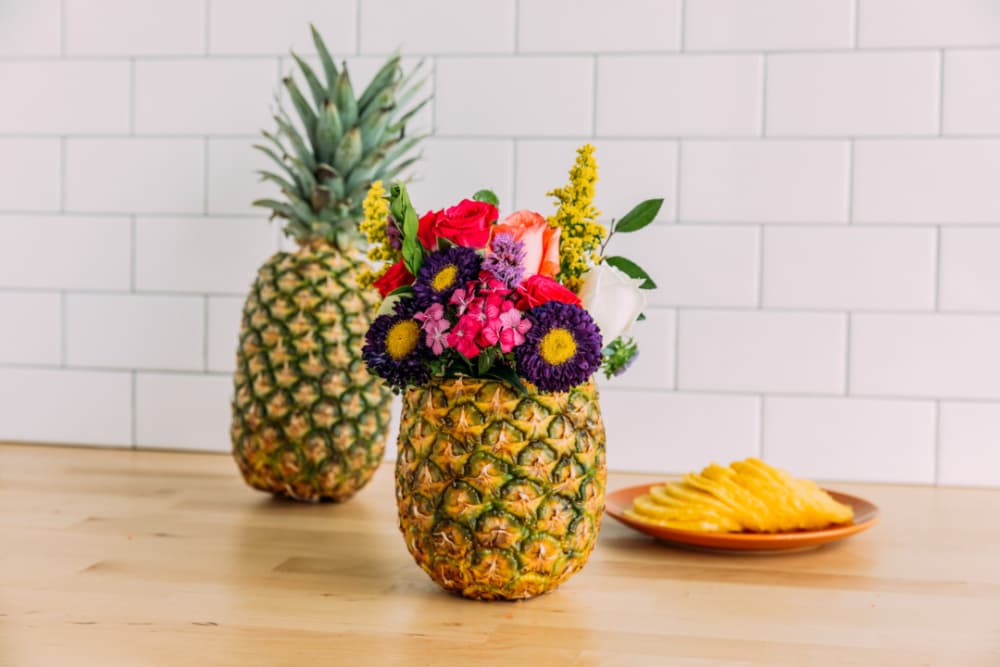 image: https://blog.francescas.com/wp-content/uploads/2017/07/PINEAPPLE-VASE-14-1080x720.jpg
Stunning Light Bulb Vase
Time to get your old & dysfunctional light bulbs back into use. These will be the perfect little vases for smaller flowers. The light bulb vases can be held using stands or can be hung on the walls. But, you have to deal with the thin delicate glasses with proper care.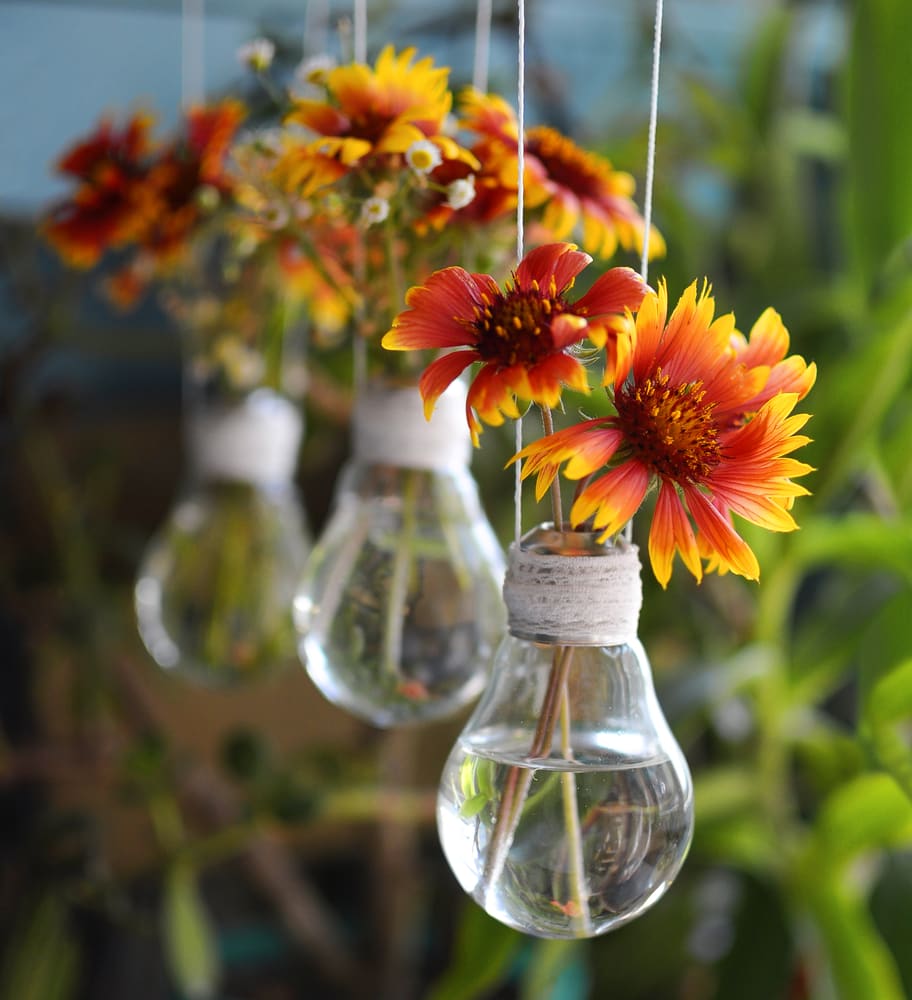 Glass Bottle Vase
You just need to either paint the glass bottles with the colours of your choice and they are ready to enhance your study tables & dining area.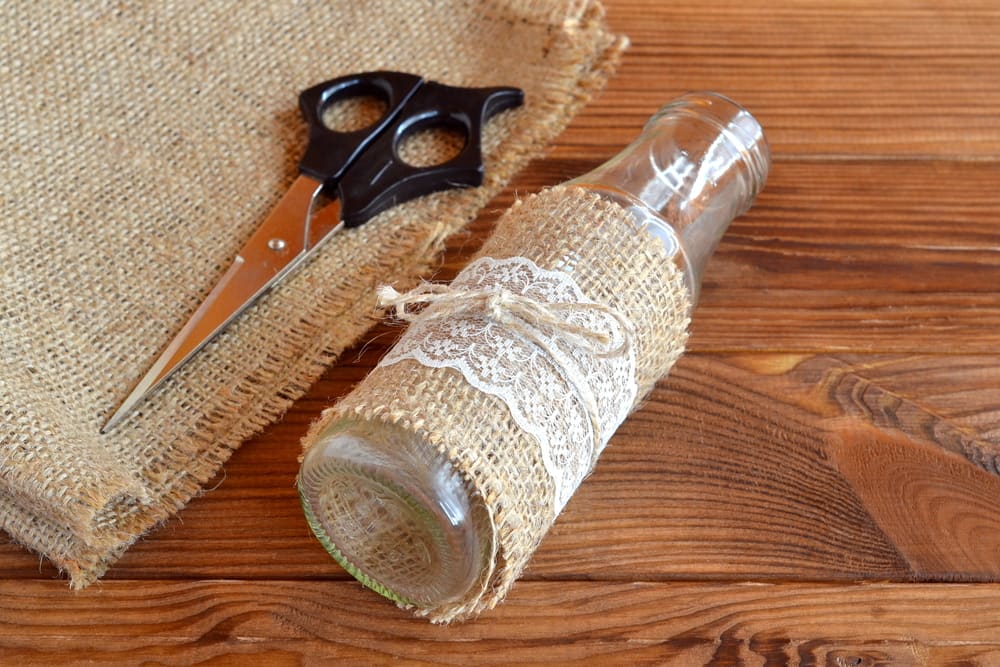 Balloon Bud Vase
Glasses, jars & plane vases are covered up with colourful balloons to make gorgeous vases. This setup is cheap yet stylish.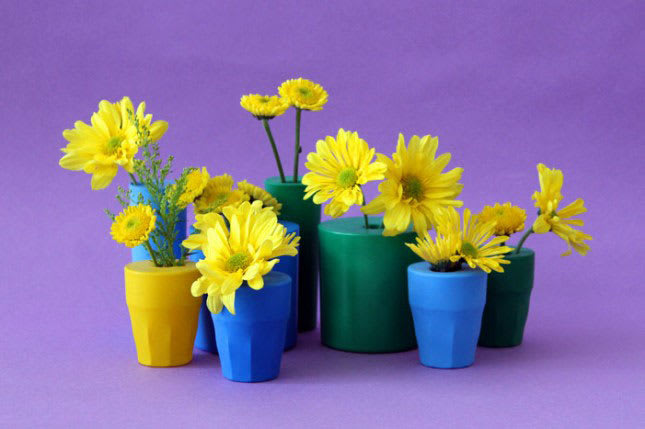 image: https://cdn.architecturendesign.net/wp-content/uploads/2015/11/AD-Brilliant-DIY-Balloon-Projects-08.jpg
Nail Polish Bottle Vase
When you are done with your favourite nail polish, don't just throw it away. Clean it properly and put the small summer flowers in it. Making such tiny bud vases is a genius & creative idea.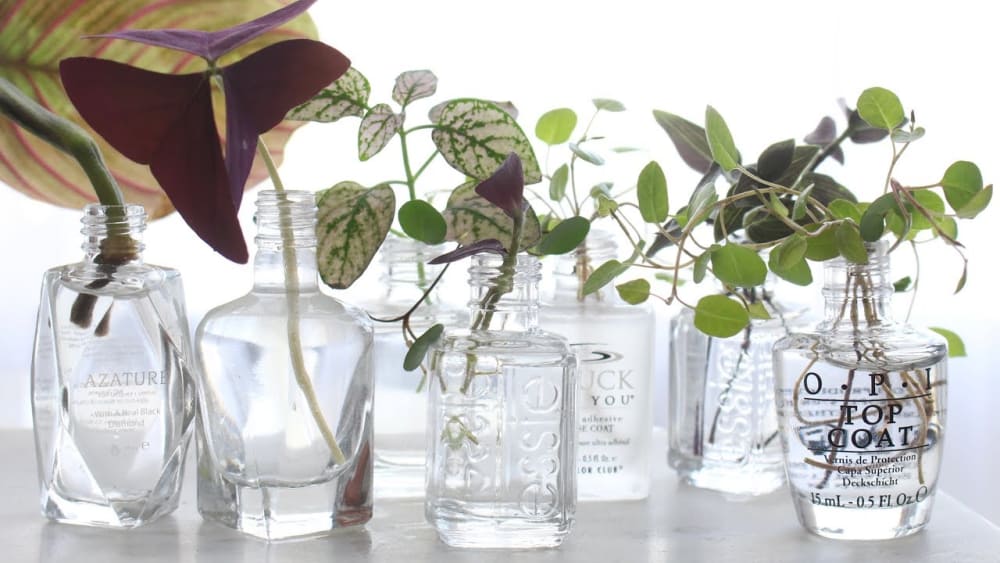 image: https://i.ytimg.com/vi/jMCD1sNn-04/maxresdefault.jpg
Rope Vase
A rope, a container and few crafting equipments. This is all you need to make a classy and traditional looking vase. Rope vases of various sizes will surely enhance and blend with your decor.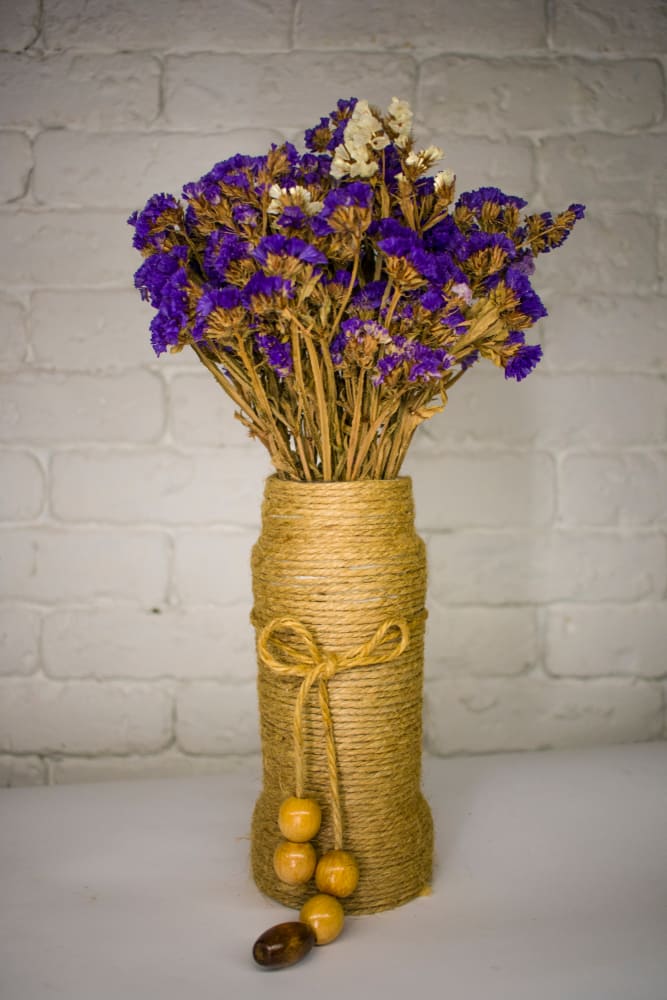 Pencil Flower Vase
A fabulous teacher appreciation gift and a unique way to flaunt your creativity. Get some pencils and a ribbon. Tie the pencils around the container with the help of a ribbon and your homemade vase is ready for use.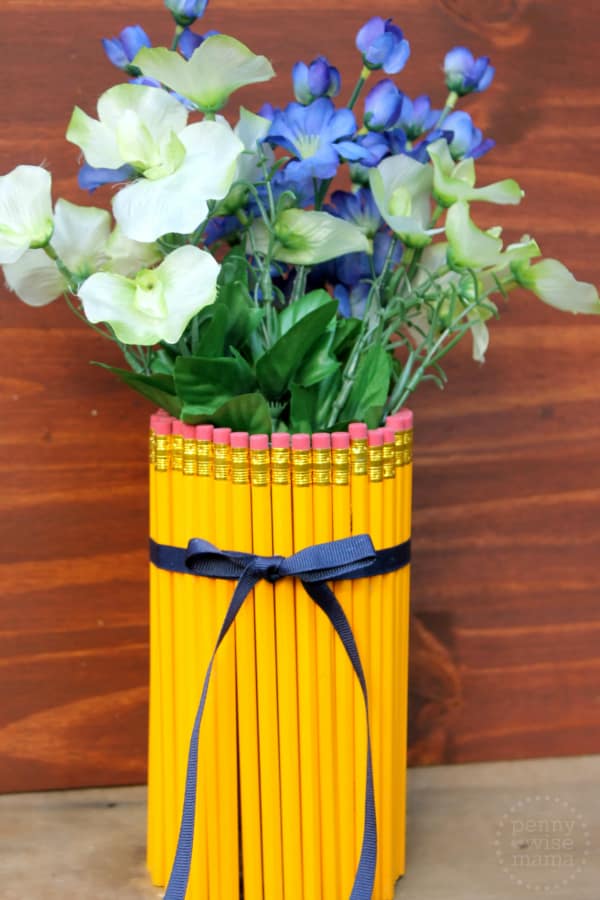 image: https://thepennywisemama.com/wp-content/uploads/2016/04/pencilvase.png
Colourful Yarn Vase
Choose a yarn or multiple coloured yarns of your desire and wrap them around an empty container. The pattern of wrapping and shape of the container is also as per your choice. The elegant yarn vase is ready to add to the beauty of the fresh blossoms.
Personalized Photo Vase
Cherish those lovely memories in the form of pictures by either getting them printed on some empty containers or pasting the hard copy to the container. This can not only be an innovative vase design, but also an emotional gift. With lots of fond memories attached to the vase, the flowers are bound to look even more beautiful.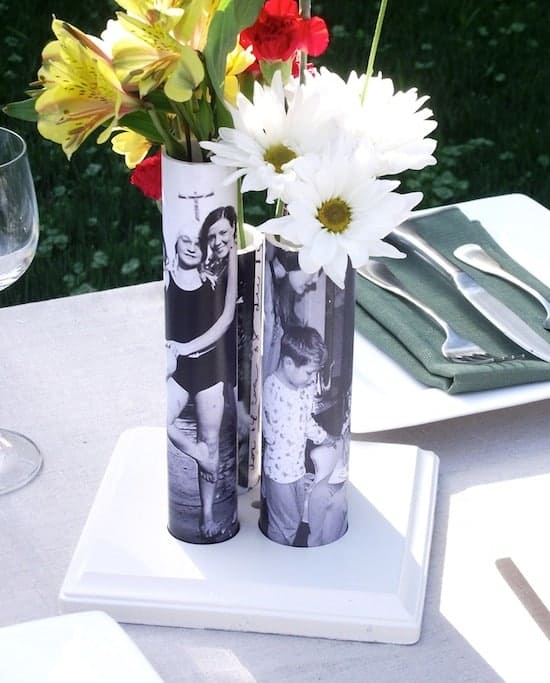 image: https://modpodgerocksblog.com/wp-content/uploads/2012/04/Final-Shot-1.jpg
Hope these DIYs will serve your purpose.