Another challenge and how we loved taking them heads on! On our hand was the job of giving a decorative touch to the opening ceremony of a club. It was to be done inside a smart looking venue. Social events like these are required to have a no-nonsense, business-like look and feel. And so, we had to put together a theme that made the place look spectacular yet maintained the smart and formal decorum the place and the event demanded.
Exotic White Flower Arrangement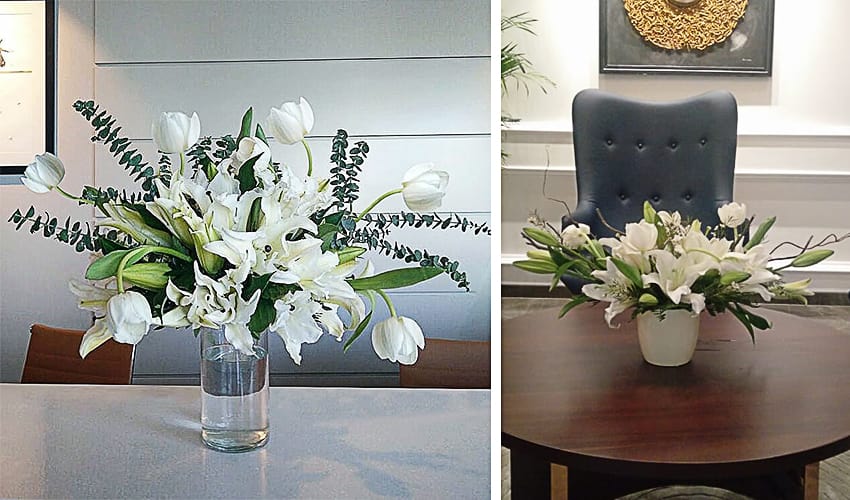 We started by selecting the colour palette. The client wanted the event to have a feel of elegance and panache. So, we decided it would be all white! Nothing spells class and elegance as white does. The absence of any other colour beautifully delivered a suave and inviting setup. Our fleur selection included white lilies, white tulips, eucalyptus, and white waxflower with salix sticks. The sticks gave the floral decorations a distinct, chic touch.
White Flowers with Salix Sticks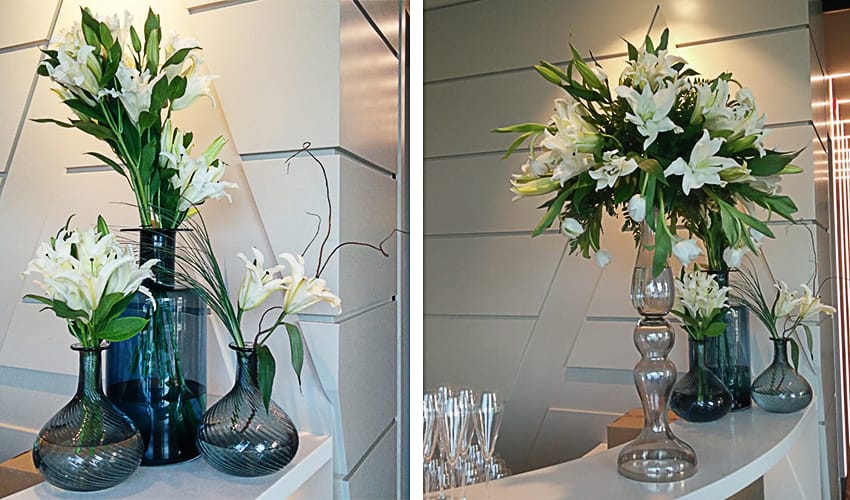 Since the club was for youngsters, we knew that nothing would work better than a contemporary theme. The flower arrangements were made to create a neat and clean look. Our decision to go for all white flower decoration was just perfect. Instead of placing flowers in bunches over a thing or creating a shape with them, we went for vase set-ups. The ambience felt quite mesmerising with the wax flowers in one vase, lilies in another, a mixture of tulips and lilies in a different vase and so on. These vases were kept at different places across the venue so as not to kill the simplistic and modern vibe of the club. Another reason for going for a vase set-up was not to cover the interiors of the newly done up place.
Structures Beautified with Creative Flower Designs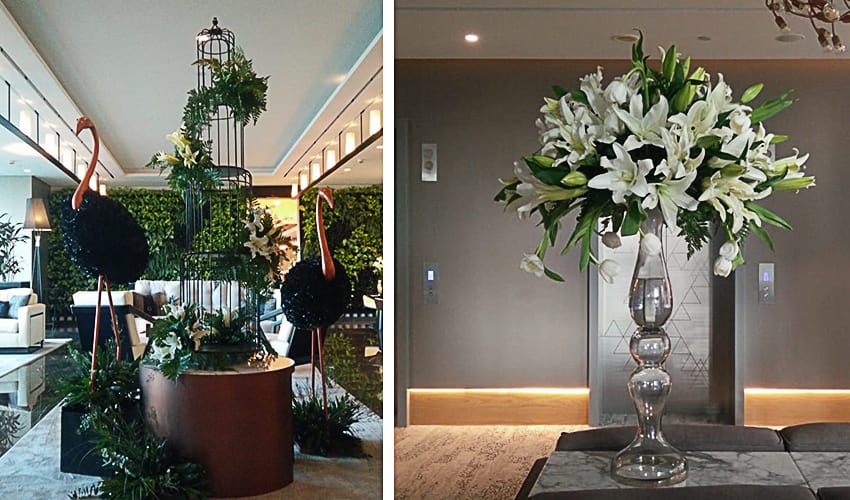 The highlight of the venue, two different sized flamingos, was where we got to be creative. The look of these tall structures was enhanced by placing a stylish, tall cage in the middle. The flamingos and the cage were decorated creatively with exotic flowers and greens in a spiralled manner which completely transformed the look and feel of the area. To add more textures, some greens were added at the foot of the beautiful birds. Thus, we managed to bring an eye-catching forest like feel to the modern ambience.