Did you know that Diwali brings something else along with happiness and brightness? According to the Hindu calendar, Hindu New Year starts with Diwali. So ring in the new year with great enthusiasm by commencing it with joyous Diwali celebrations. And what can be a better way to celebrate the festival of lights and New Year than with the bright, cheerful, and optimistic flowers! We tell you how to add that unmissable and contagious festive spirit to your house with the lively florals.
A Floral Welcome
image: https://i.pinimg.com/originals/9e/84/d0/9e84d05beab18131f73883056bac60c9.jpg
Keep your homes ready for Goddess Lakshmi and your loved ones who will be visiting you this Diwali 2018. An eye-catching floral décor on doors and windows is a sure way to gain admiring looks from people witnessing it. You can hang a garland of flowers of your choice at the top of the door or on its sides. Exhibit your creative side with flower decorations for windows as the space will allow for incorporation of your desired designs. Marigolds, mango leaves and bel leaves are considered apt choice for Diwali decorations because of their auspiciousness. But you can also try exotic flowers such as orchids, lilies, carnations and some greens to give that oh so fantastic feel to your window space.
A Different Rangoli- Try Floral Rangoli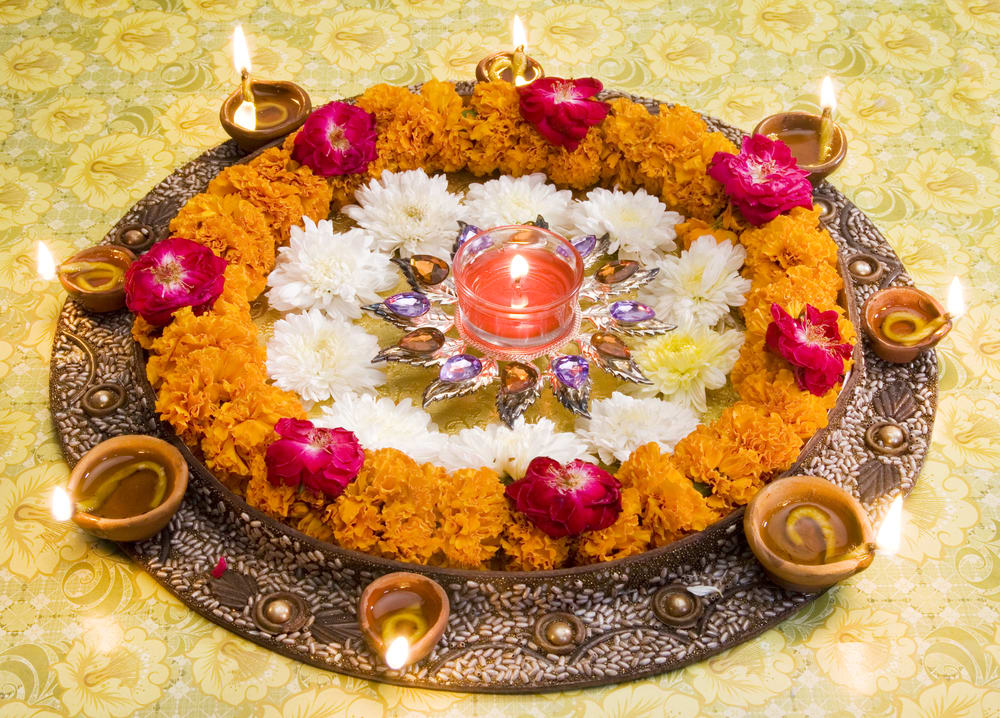 Welcome your guests to the great designs of rangoli. But of a different and more fragrant kind. Yes, we are talking about floral rangoli designs for your home. Try all shades of flower colour like reds of rose, orange and yellows of marigolds, white of jasmine and all the flowers you wish to design your rangoli. Use whole flowers or petals. The choice is yours. Just make sure to add those illuminating Diwali diyas to your designs to make it look stunning. And need we say that they will certainly stand out from the rest of the rangoli designs of your neighbours. Wink wink.
Heart Winning Floral Arrangements Inside the House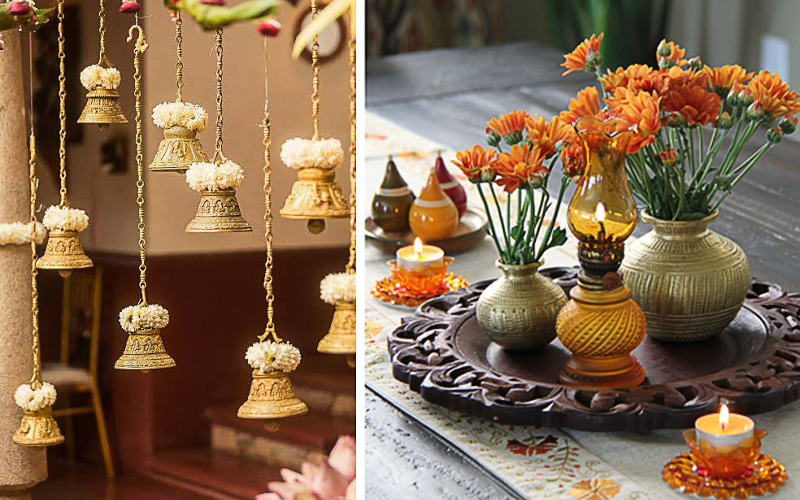 image: https://i.pinimg.com/originals/c9/11/93/c91193b923675c78aa4d0a499cbea7a6.jpg &http://www.3productionweddings.com/blog/1669-2/
When we are talking about floral arrangements, how can we leave out flower bouquets? A gorgeous centrepiece is a sure win-win. Select the best flowers for this arrangement to make it look bountiful. After all, this centrepiece will be the centre attraction of your floral home décor inside. Go for exotic flowers such as tulips, gerberas, lilies, hydrangeas, roses etc. in a vintage flower vase. This exotic flower arrangement is sure to be the topic of your guest's discussions.
Here are some more creative floral arrangements you can try for your nest depending on your taste:
Lantern Style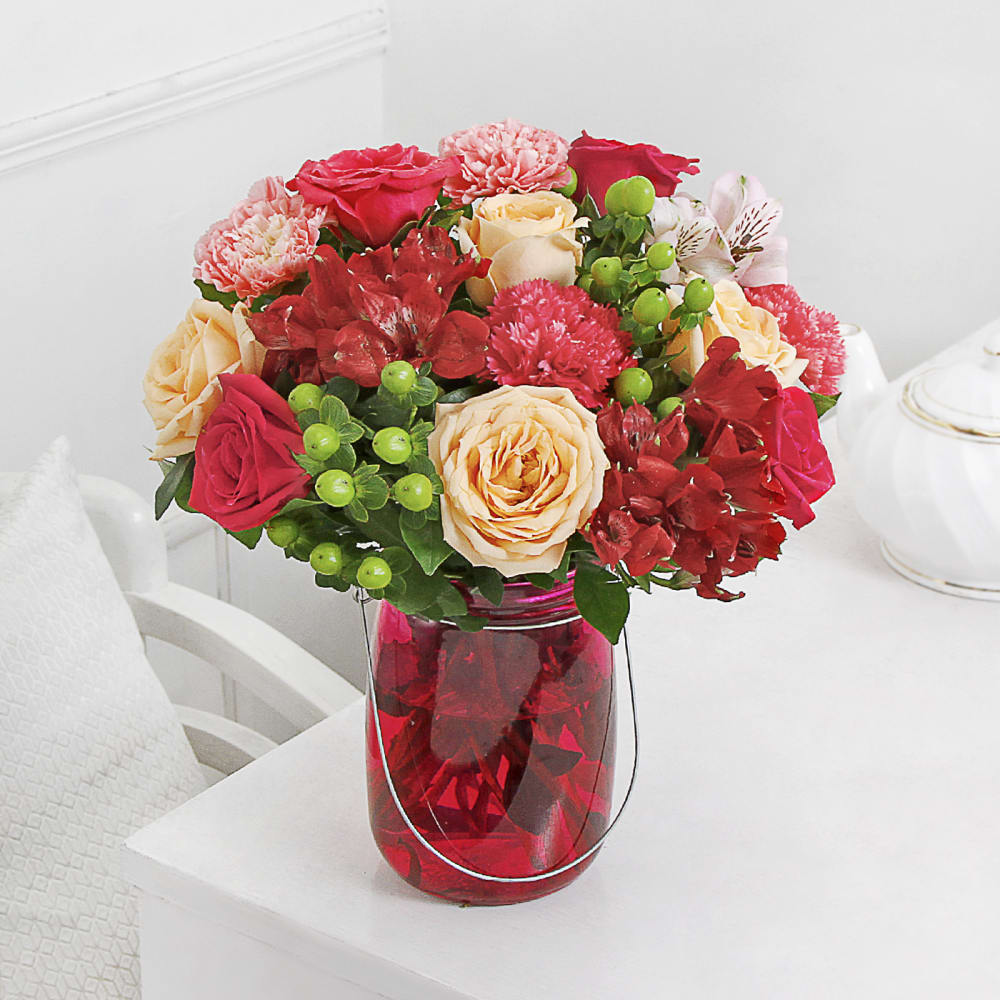 These are apt arrangements for any modern home. The vases are in the shape of a lantern, complete with the handle. You can buy such stunning flower arrangements for your home from Interflora.in.
Ikebana Style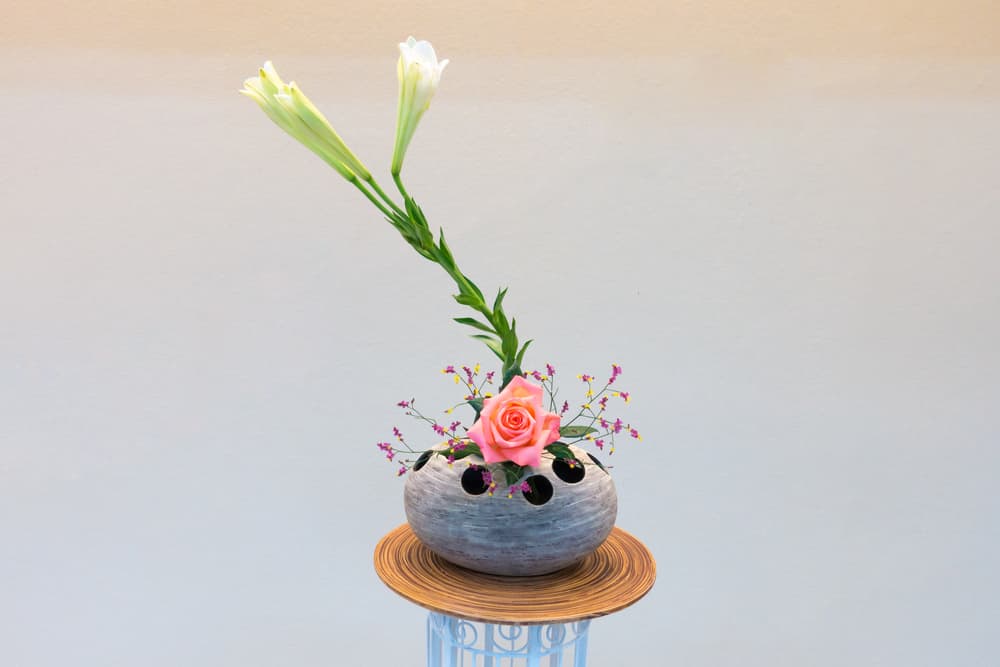 Ikebana gives your home a chic and calming facet with its minimal yet intricately aesthetical design. This floral arrangement is from Japan which is loved for its quality to keep plants alive for long.
Dome-Shaped Style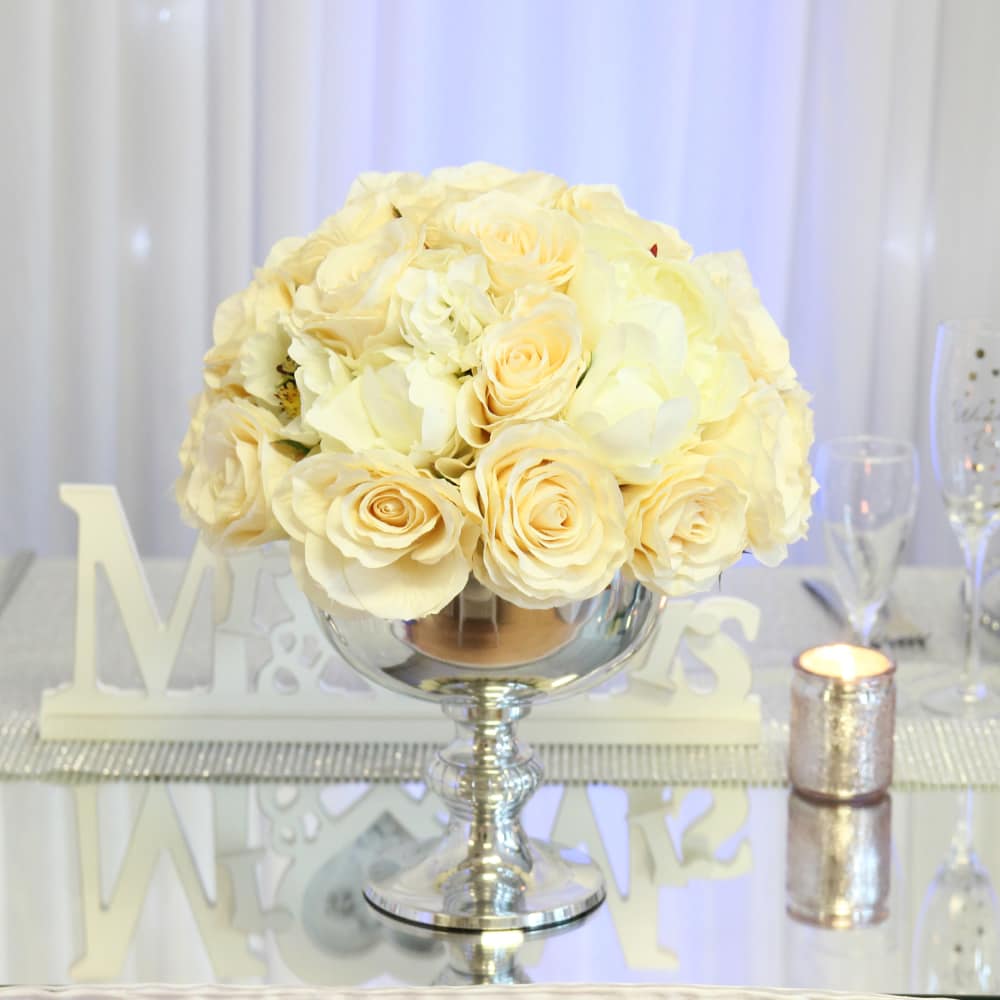 Image: http://beyondexpectations.uk.com/product/mirrored-punchbowl-centrepiece/
This arrangement can be achieved through globe-headed florals like roses, carnations, dahlias, etc. Just place them together inside an unused bowl filled with water and your cute and kitschy floral style is ready.
Floating Floral Beauties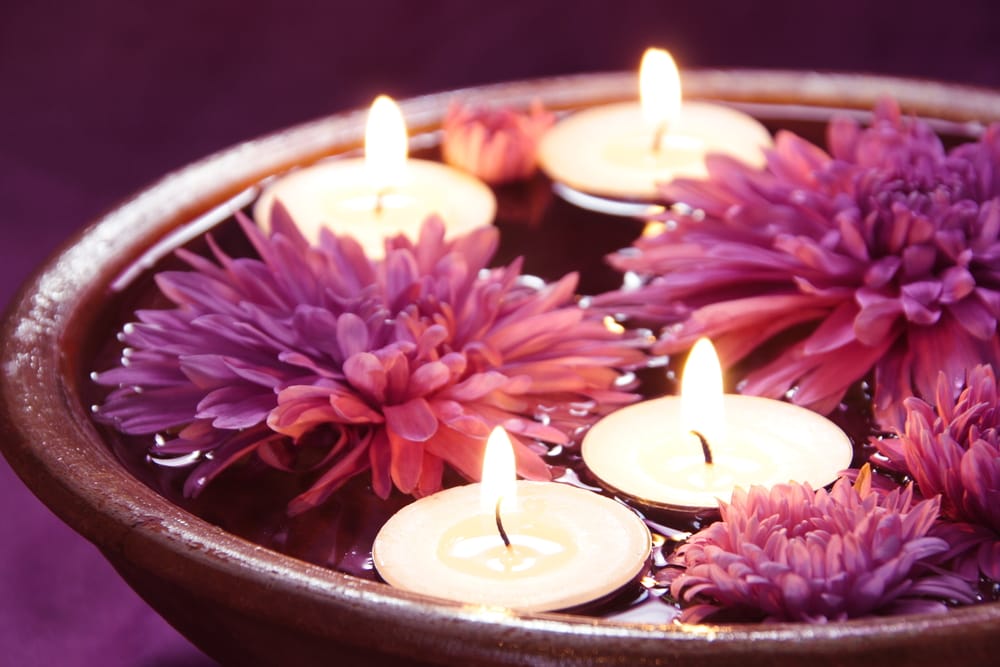 Courtesy:https://homemakeover.in/rangoli-design-colourful-water-rangoli/
If you are not game for exquisite vase floral arrangements, you can always opt for floating flowers. You just have to fill a vessel with water and place plucked out flowers on them. Water and flowers floating on it will create a mystifying effect against any backdrop.
Decorate Your Mandir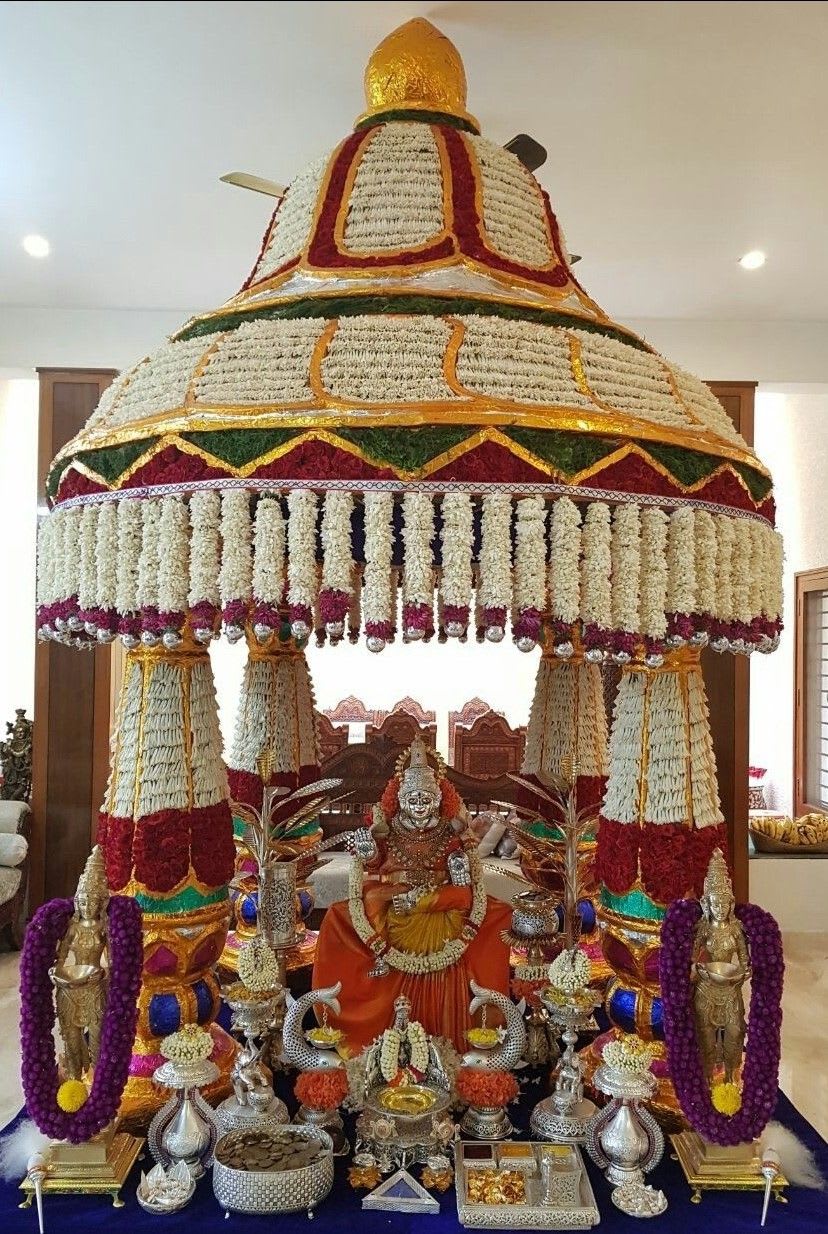 image: https://in.pinterest.com/pin/524036106635855800/
During this festival, the place of worship holding idols and photos of your revered God needs a facelift too. Decorate the mandir, dress up the idols, and your puja thali with a garland of flowers like roses, marigold and mango leaves.
Flower Chandelier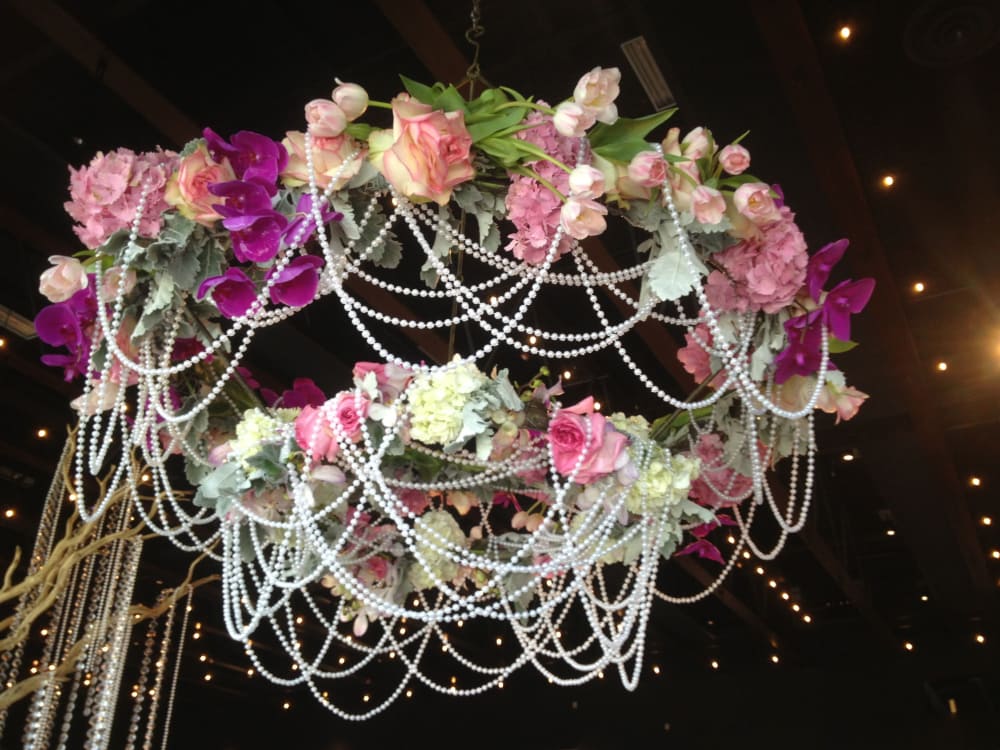 image: https://in.pinterest.com/pin/310748443012515712/
The best thing about flower décor is you just cannot get enough of them. Enjoy the engaging beauty and sweet scent of flowers wherever you look with these wonderful floral beauties hanging from your abode's ceiling. Pick small blooms for this and tie them with large leaves at the top. You can hang them from curtain stands, wall lights, and other corners of your homes too. They will only add more splendour to the ambience of your home.
With these Diwali floral décor ideas, your house is sure to look and feel more inviting, fresh and pleasing. Happy Diwali!