Special occasions call for special celebrations. And happiness is only multiplied with awesome treats. So treat yours and your loved ones' senses with special gift hampers created by team Interflora India. Whether you are celebrating Diwali, Christmas or New Year, these fabulous online gift baskets are sure to create a spell-binding effect on the receiver. So go exclusive this festive season with our collection of premium gift baskets that are handpicked, handcrafted and indeed created with loads of LOVE...
1. A Crackling Hamper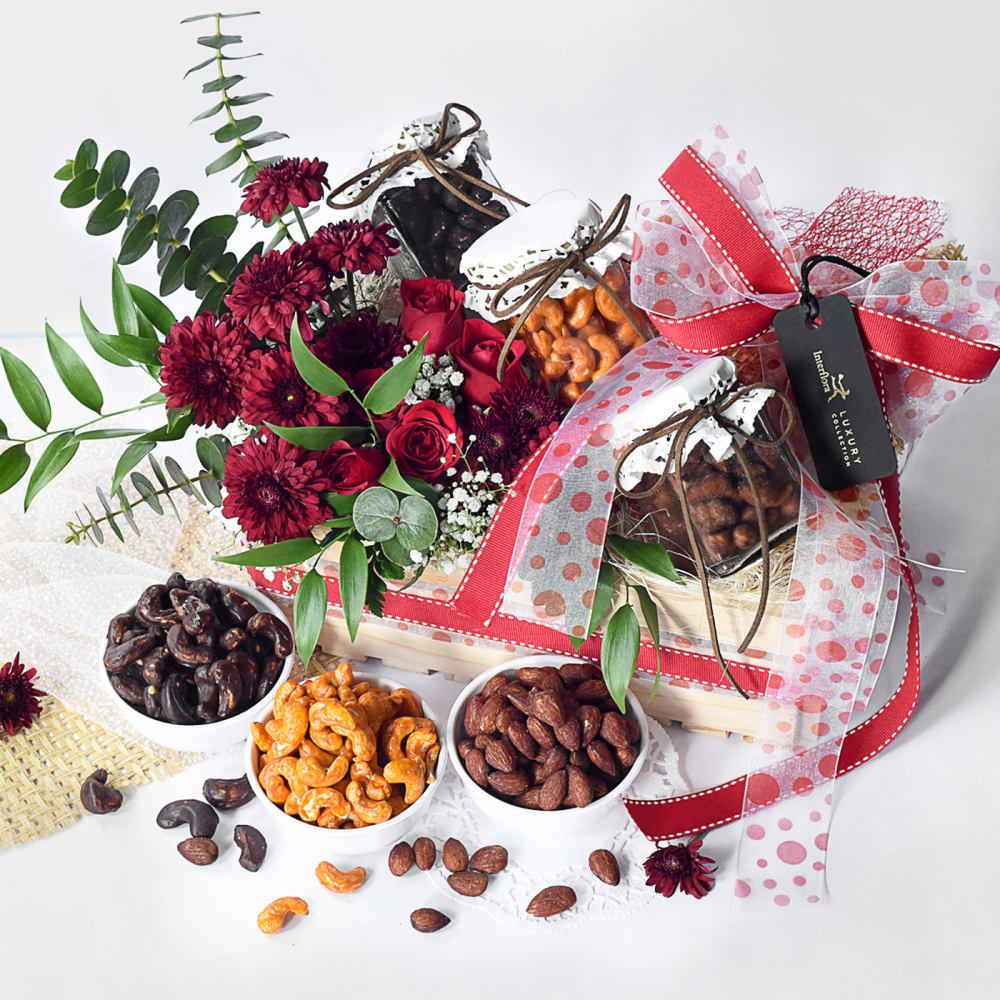 Diwali calls for a get-together with family and friends. What can you gift your loved ones that they are sure to adore? A hamper that offers positivity, the excitement of the upcoming New Year and upliftment of the taste buds. Combining stunning bouquet of red spray chrysanthemum and red roses with munchies like cheese cashews and honey roasted almonds and (something else!), this hamper is meant to be enjoyed and admired. Celebrate the festival with renewed zest with this bountiful gift hamper for Diwali.
2. Can't Get Sweeter Than This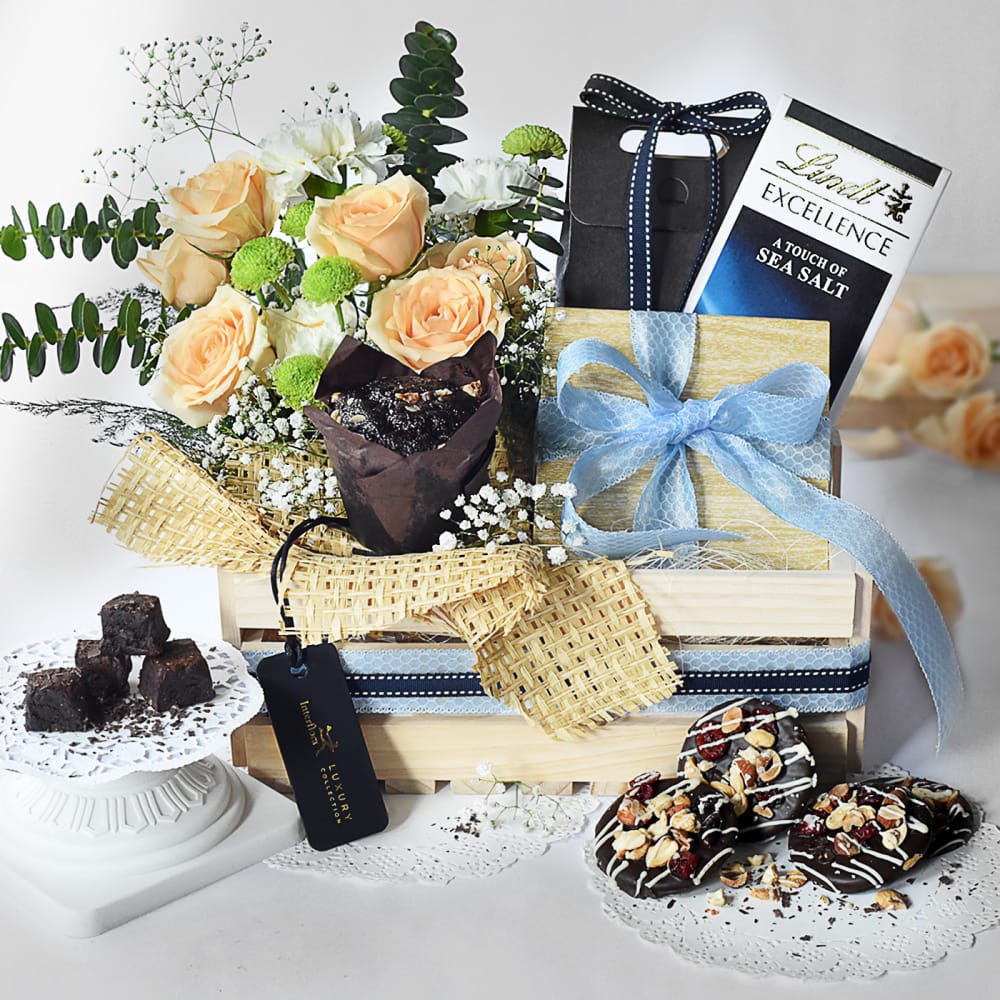 How can we talk about festivals and not mention sweets! And why limit sweets to taste only? Offer sweetness of scent along with taste to your dear ones and celebrate special occasions with much more enthusiasm (sweets give you energy, don't they?). An exotic bouquet of sweet-smelling peach roses and white carnations along with a bar of Lindt sea salt, Ruchoks chocolate cookies and more delicacies are waiting inside the basket to make you and your dear one's festival celebrations savoury and indulgent.
3. The Gift of Luxury and Indulgent Cravings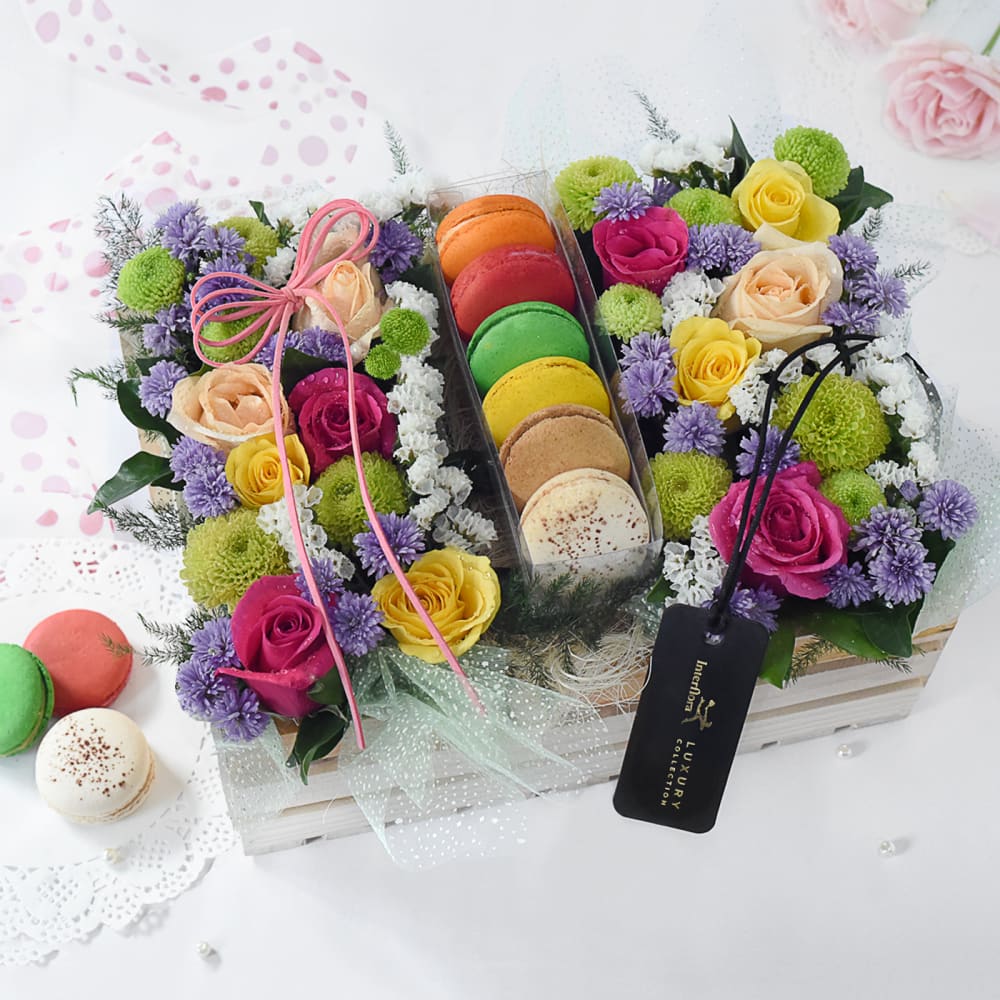 Do beautiful, fragrant flowers have the potential to make a loved one go weak around the knees? Then you cannot find a more perfect flower gift hamper than this one. This single hamper offers marvellous beauty, captivating scent and luscious flavour. It combines luxurious florals like peach roses, cerise pink roses, stem purple daisies and more with tempting macaroons.
4. Gift Fresh And Energetic Mornings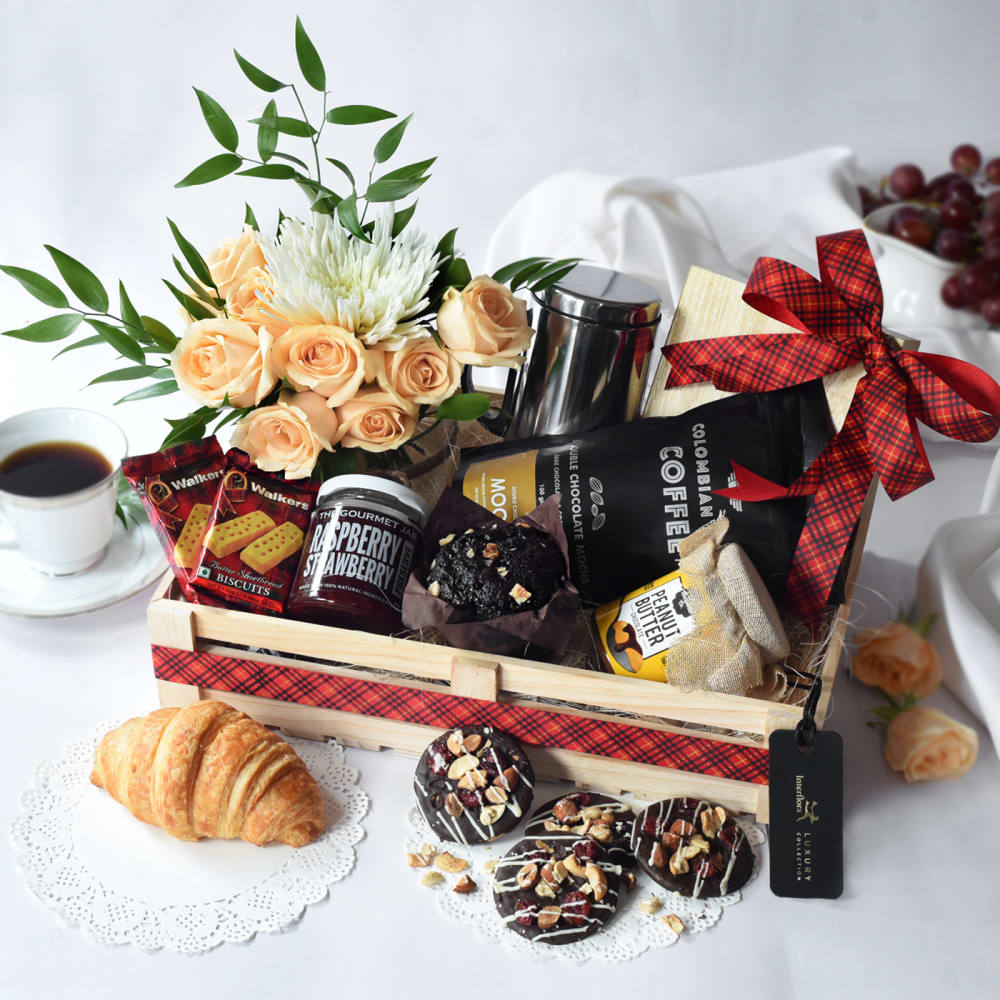 The chilling, lazy winter mornings sees each one of us struggling to lay the warm blankets aside and leave the comforting bed. Incidentally, we celebrate many of our festivals this time around. So it goes without saying one needs a fresh start to the day and fantastic energy to enjoy the festivals. This special gift basket, loaded with gorgeous blooms and yummy treats, can make for the perfect corporate gift for employees. It has florals like adorable peach roses and a white disbud along with Colombian brew instant coffee-double chocolate mocha, Ruchoks chocolate cookies, Walkers butter shortbread biscuits, and loads more.
5. The Hamper of Health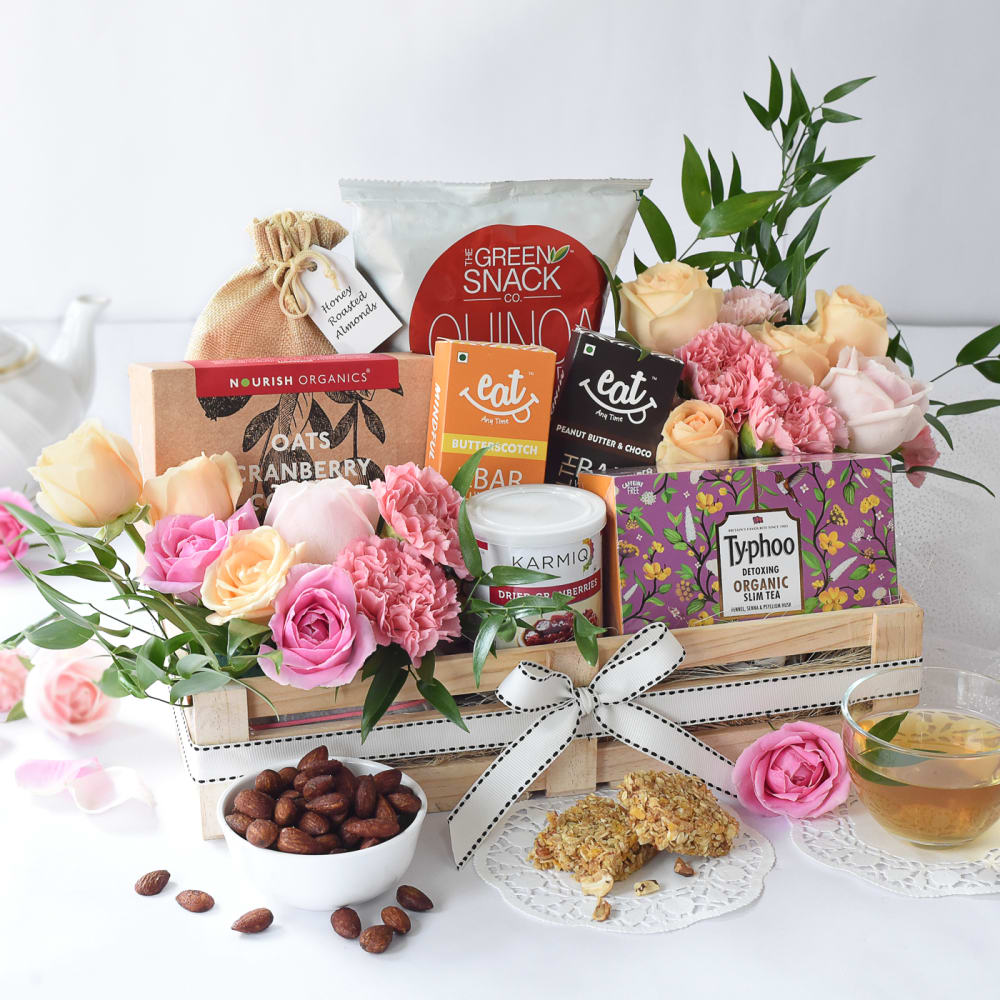 Is your loved one always worried about gaining those extra kilos during festivals? By gifting them this hamper of health, you can make sure your dear ones come to their original (even desired size ;)) by simply enjoying goodies like detox organic slim tea, a butterscotch health bar, zesty kale quinoa puffs and much more. And the premium flowers like sweet avalanche roses and light pink carnations will ensure they remain calm and patient during the weight loss process.
6. That's So Cheesy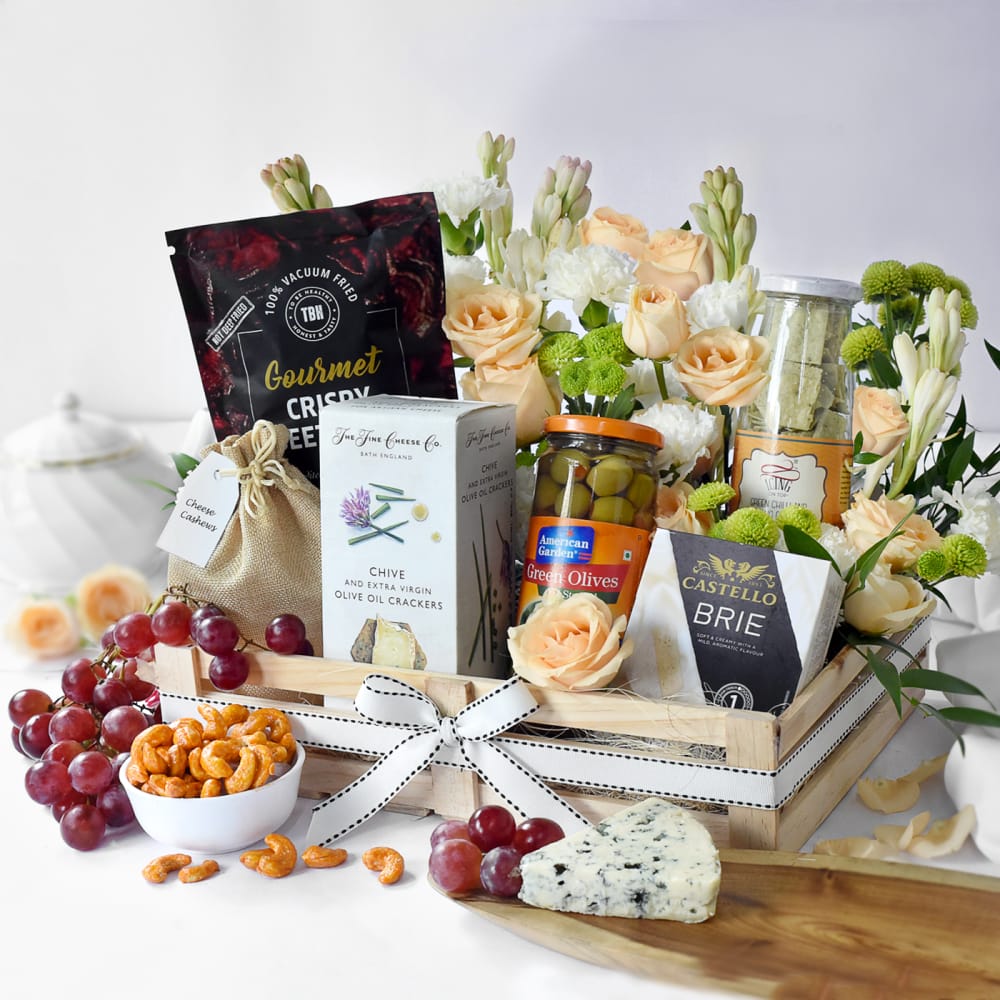 Being an ardent cheese fan is no sin- that's what this hamper is itching to tell your loved one. Gift this basket to your cheese loving dear one and feel the love come back to you a thousand times over. It features a bouquet which is created using sweet smelling and heavenly looking florals like peach roses, white carnations and tuberoses. Offering a delicious treat are Castello Brie cheese, green chilli and oregano crackers, cheese cashews and more.
7. A Love-Filled Hamper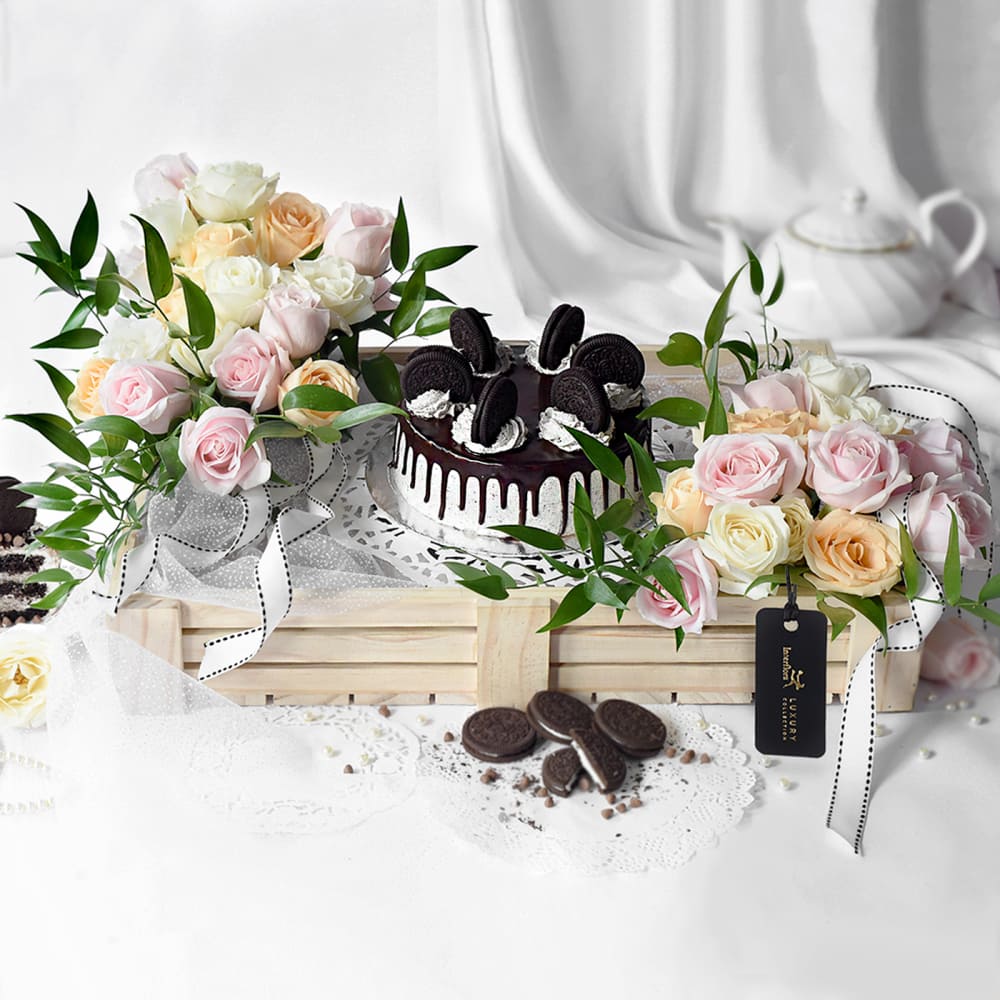 Sure, festivals call for special celebrations. But you cannot overlook your loved ones' big days like birthdays and anniversaries falling during the festive season. And does it not give a reason to double up your reasons for celebrations? Pour all your love for your loved ones celebrating birthdays or anniversaries with this hamper of delicious smelling and beautiful looking florals with a mouth-watering premium cake. The bouquet is a charming medley of peach, white and avalanche roses. The Oreo cake has a taste that demands one's full attention when being savoured.
8. A Fruity Affair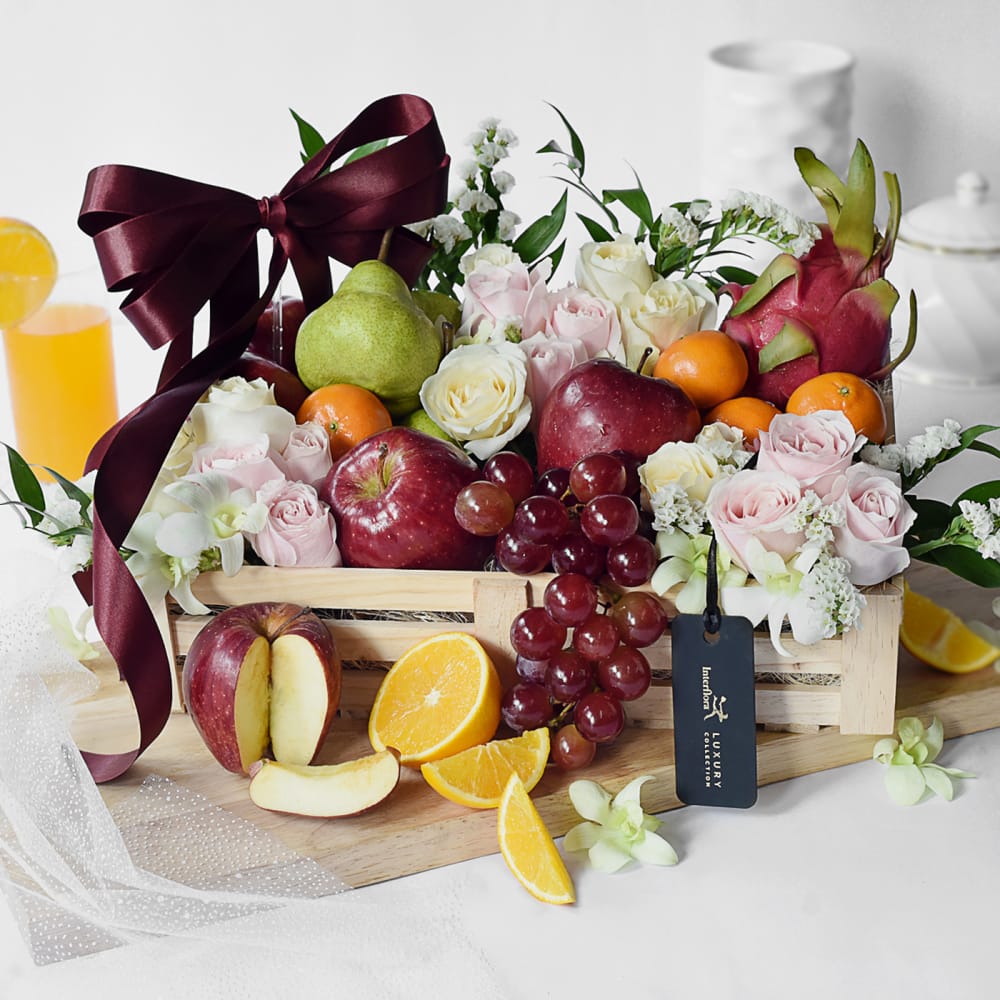 Just like there's no alternative to sweets during festivals, there's no alternative to having a healthy mind and body. Ensure your loved one's cheeks turn pink and mind peaceful with this flower and fruits hamper. The attractive arrangement of sweet avalanche roses, white roses, and a white orchid is designed to awaken happiness, positivity and serenity in your loved one. Providing bites of health are fresh fruits like apples, pears, and oranges.