You: Mooooooom! Wait till mom knows this. You are gonna be in a mess this time".
Do you remember this sentence or a sentence that is similar to this one? We sure know you can identify with this situation. And not one but for several times and reasons. Brothers sure are pricks at times, but what the hell, had they not been there, our lives would certainly not be the same. Brother's mischievous behaviour makes us feel that life itself isn't interesting, but we have to make it one with our creative thinking (doing mischief and getting away with it sure does need a hint of creativity
). Their lies give us the feeling that it's all OK to get what we desperately need with a little bit of non-disclosure of the truth. All in all, it's a bliss to have a brother, be it younger or an older one. Interflora India is celebrating this special bond that you share with brother through specially curated and handcrafted Rakhi gift hampers. So feel blessed if you have a brother who makes your life interesting with his presence. He is also someone who acts as your support system in times of need. This Rakhi let him know how much you cherish your bond with him with specially handcrafted Rakhi gift hampers.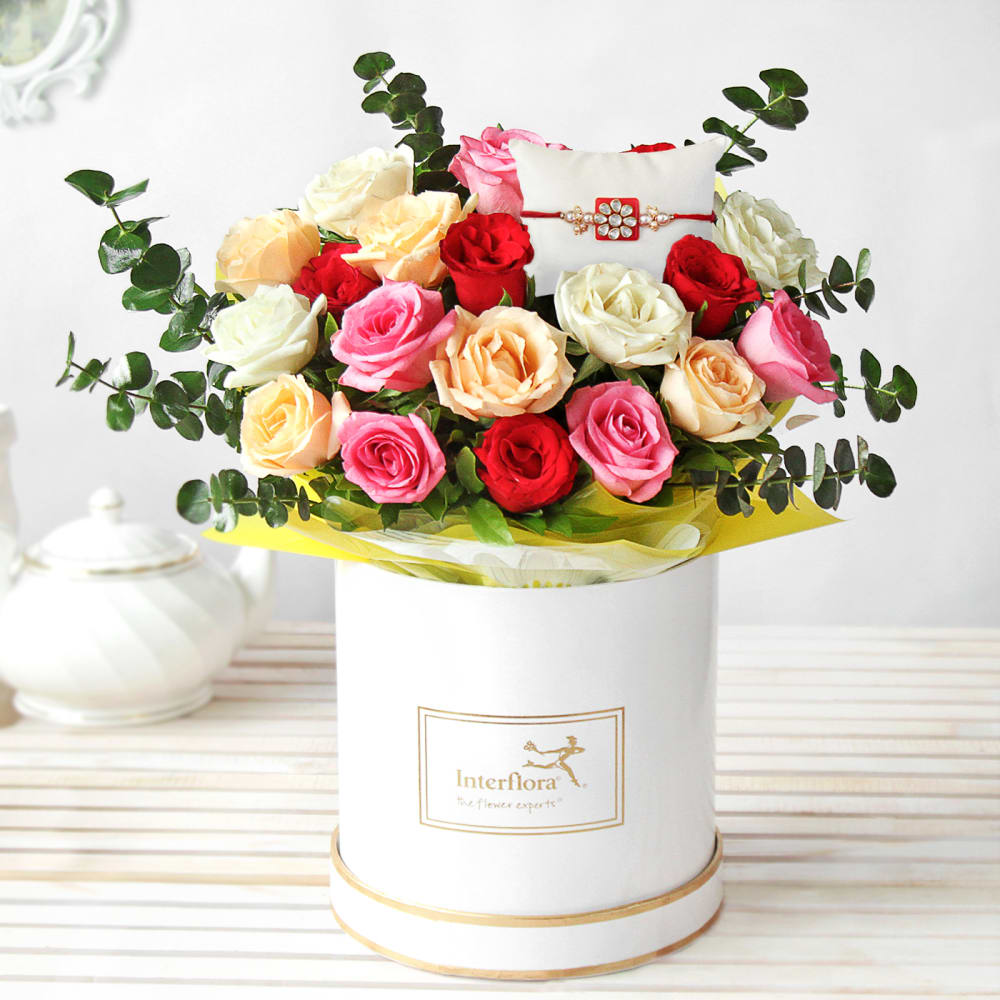 Now, who doesn't likes roses we thought before creating this Floral Rakhi Gift Hamper. Instead of just sending Rakhi to your brother living away, go for an exotic flower gift with Rakhi. Handpicked Large Headed Roses in different colours are sure to enliven the space of his house.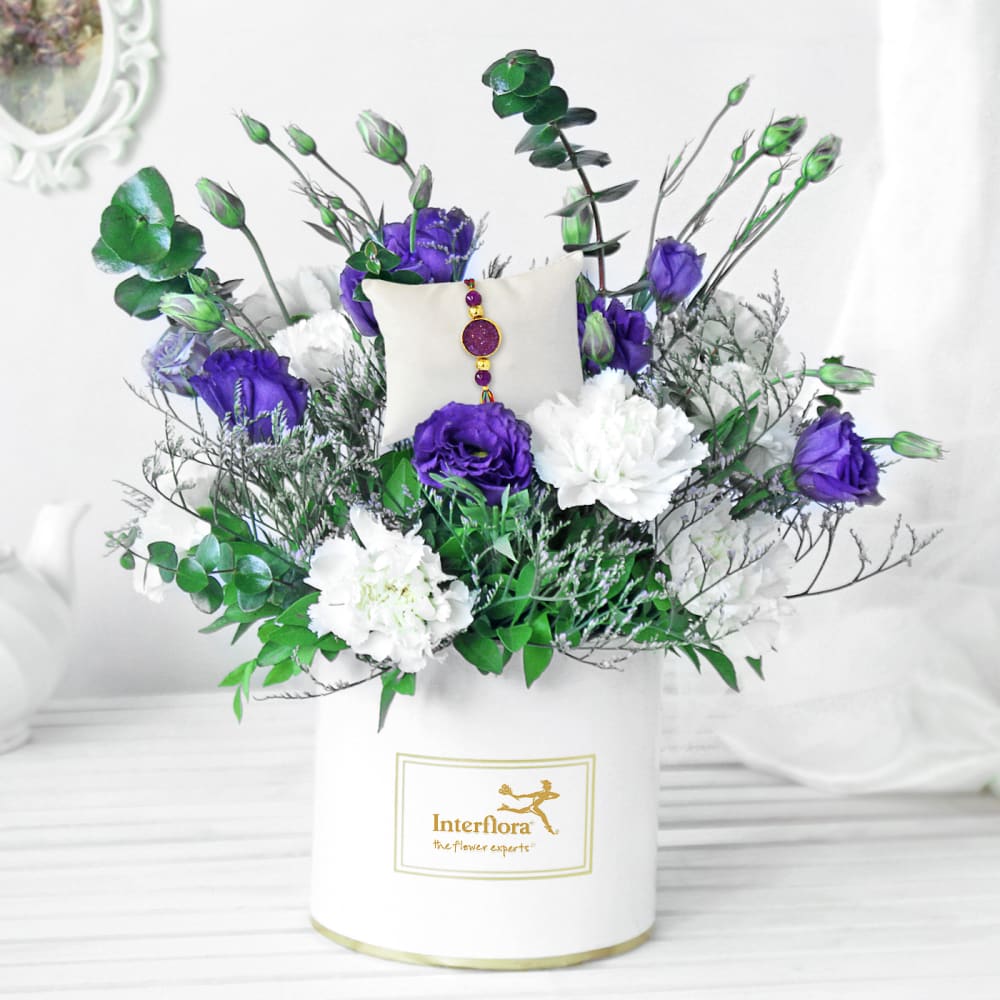 If your brother is someone who loves a bit of royalty and elegance, this can be an awesome flower gift that comes with a beautiful stone Rakhi. Complementing each other perfectly, this Floral Gift with Rakhi is sure to win his attention on this Raksha Bandhan 2019.
Exotic Floral Hamper for Rakhi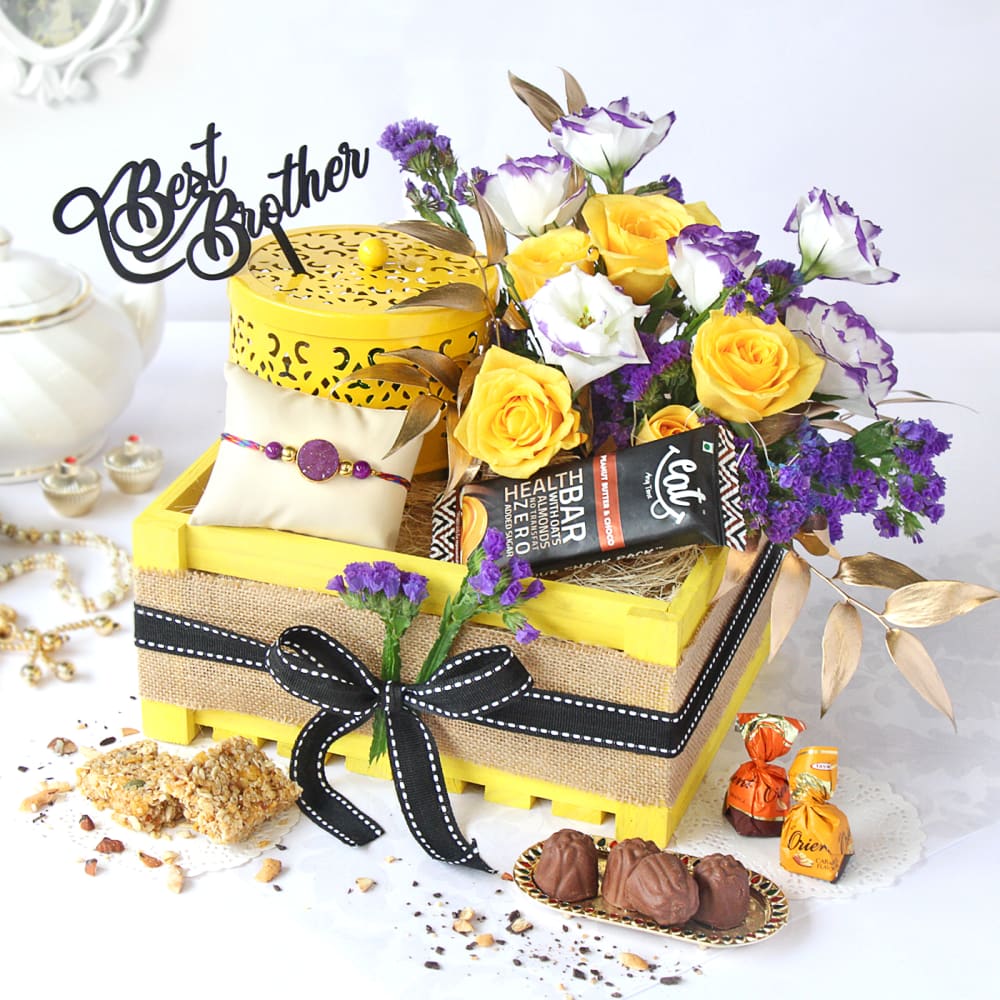 Do you at times feel that you got the best brother? ;) We are sure you do. Then why not express this with a Rakhi hamper that exactly says this. Loaded with a health bar, yummy chocolates, cookies and gorgeous yellow and two-tone blooms in violets and purple, this hamper comes in tray decorated with a bow.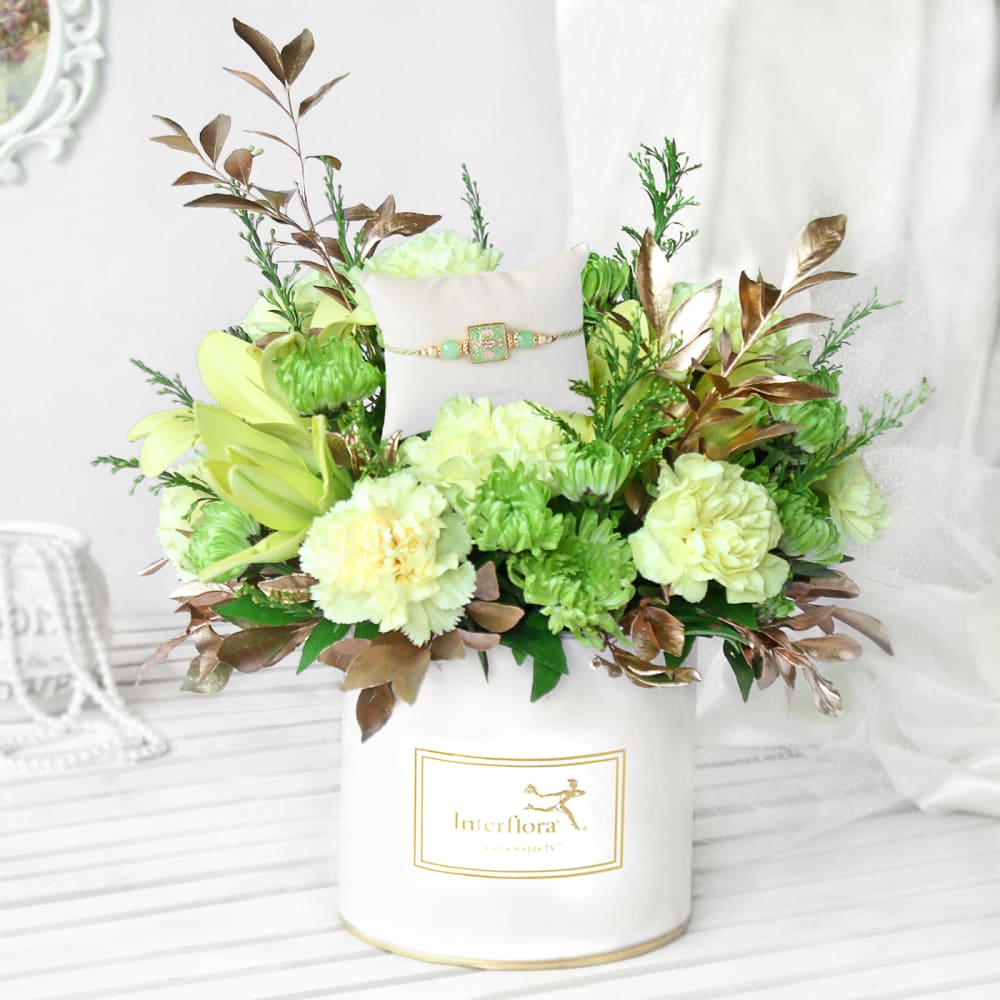 'Wow' your brother with an exotic floral hamper for Rakhi. These exotic green friends come elegantly bundled in a special Interflora gift box along with a complementing green stone Rakhi.
Luxury Floral Hamper with Rakhi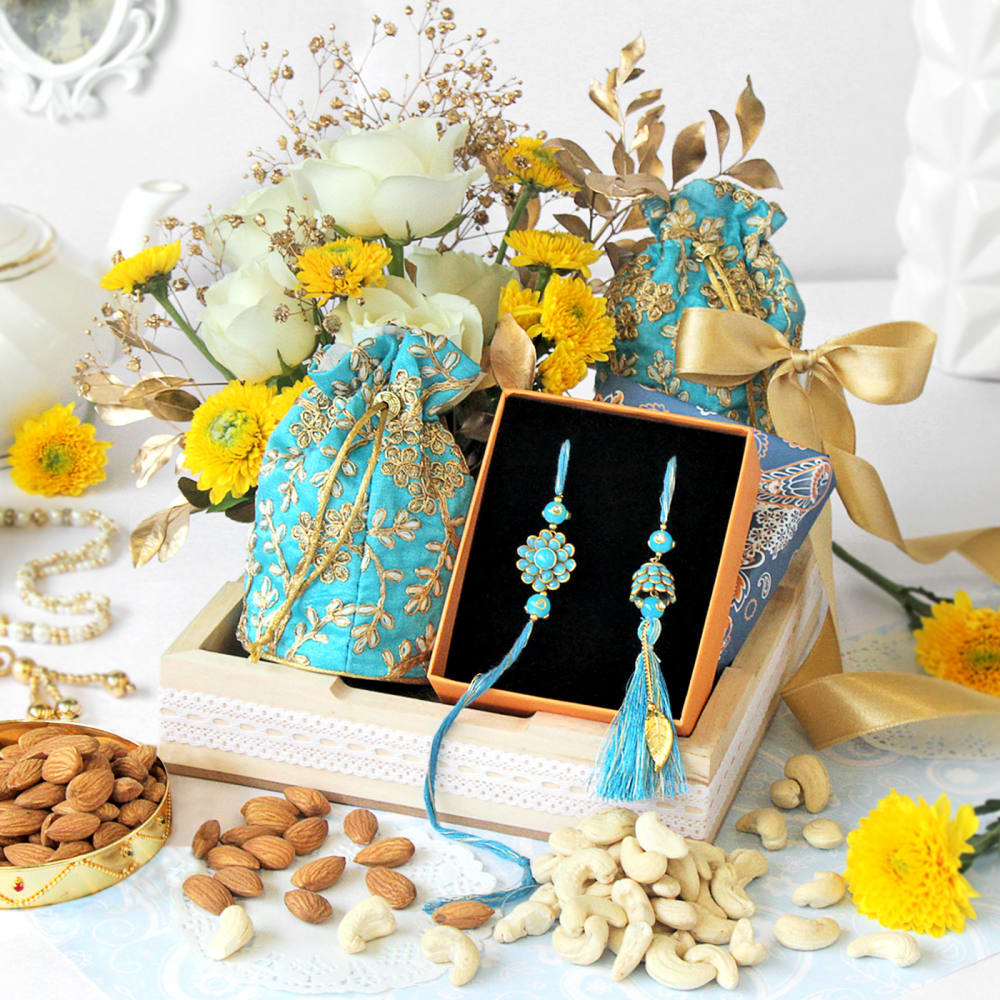 Its joy doubled when you have a married brother. Isn't it! For your settled brother, we got a Rakhi hamper as special as his relationship status. Send him love, and good wishes with this Bhaiya-Bhabhi Rakhi hamper consisting of Rakhi for brother and Lumba Rakhi for sister-in-law This Rakhi set comes along with dry fruits potli in a tray decorated with gold ribbon and embellishments.
Love-filled Floral Hamper for Rakhi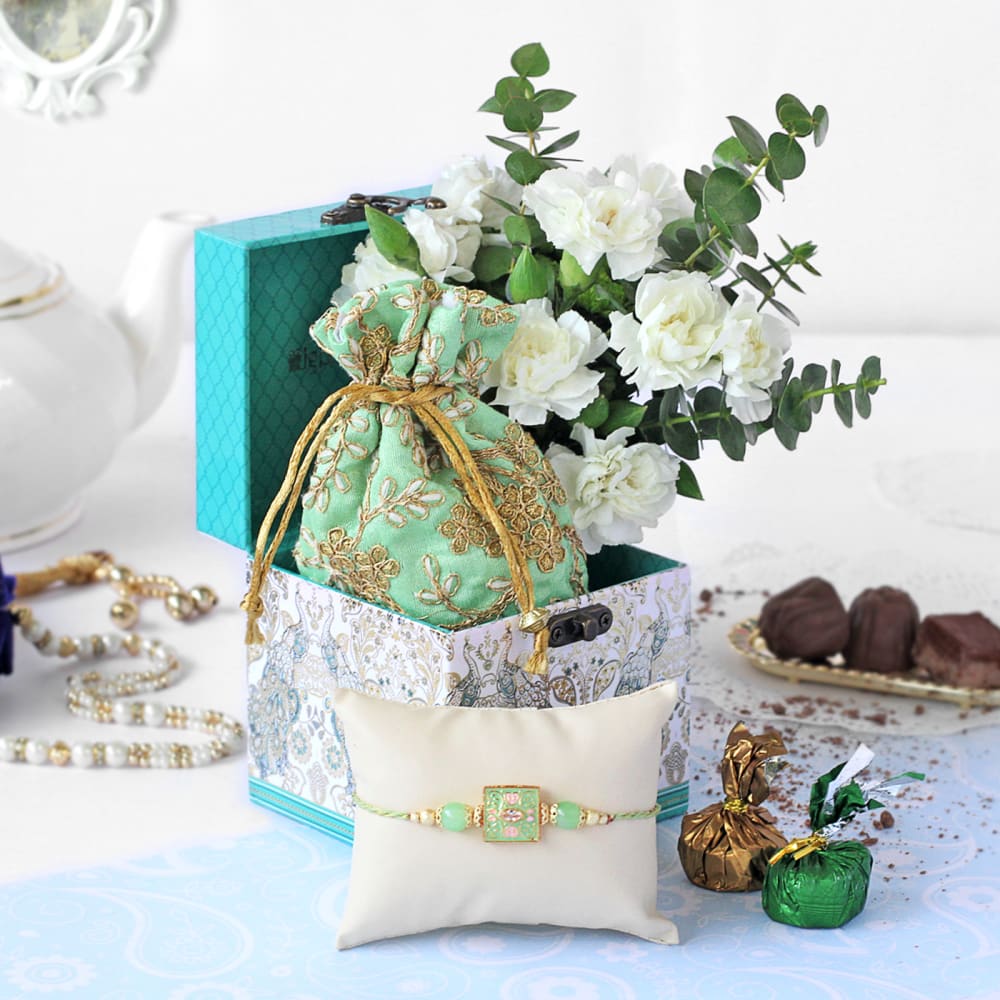 How cool and blissful it is to go down a memory lane filled with the sweetness of childhood. Reminisce your childhood memories with your brother of chocolate stealing from each other with this Rakhi hamper that includes yummy chocolates.
Each of these hampers is thoughtfully curated and is surely going to add more love and affection to your Rakhi 2019 celebrations.