Everything was extravagant about this high profile couple's engagement. It was a highly rich and grand engagement between two big names. It was a proud moment for us when we were approached to do up the venue for their engagements. So for the important day, we picked shades like pink, coral, peach, white, magenta, light mauve, and pale pink as they symbolize young love. The flowers we chose for this theme were Peonies, Phalaenopsis, Calla Lilies, Tulips, Hydrangeas, Cymbidium Orchids, Campanula, and Vanda Orchids.
Exotic Mixed Flower Wall with 3D Effect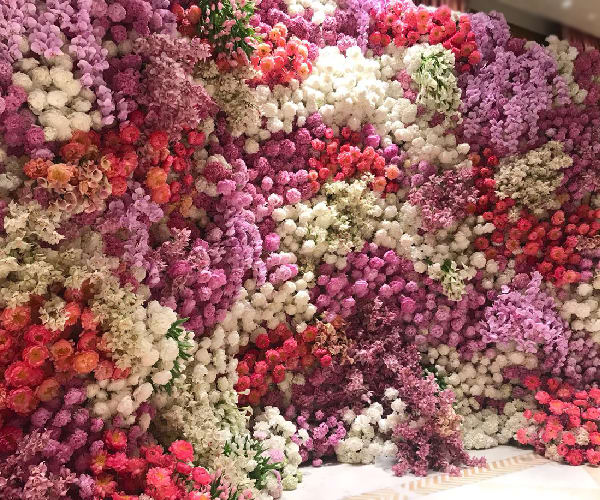 The décor theme of the venue was to be lush and sumptuous. So where there were flowers, they were in abundance. And we made every area look different with a different colour scheme. We went for a mix of vibrant and soft hues. We took faux flowers like Roses, Hydrangeas, Peonies and did something creative with them. We used them as a base for real flowers, which we placed at different levels to create a stunning 3D effect.
Floral Arrangement for Lobby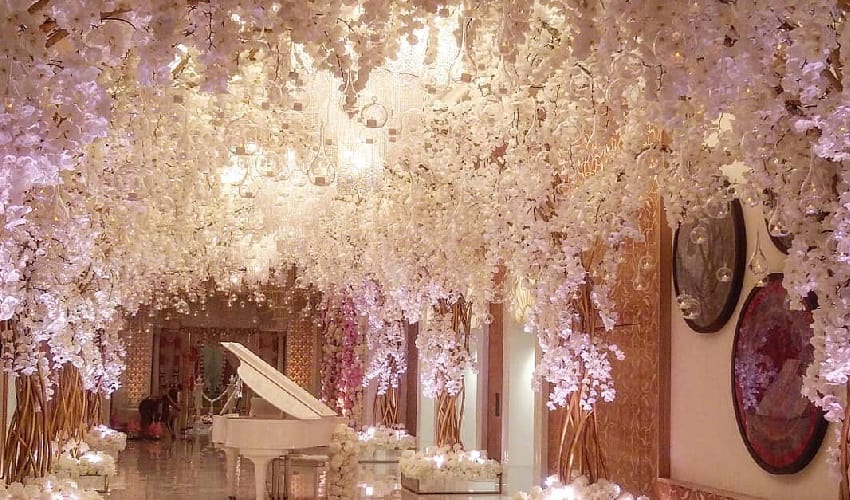 We decided to give the lobby a look that will make people feel they are roaming in paradise. So we added more than thousands of stems of white Phalaenopsis orchids teamed with different shaped hanging glass baubles with t-lights. To give a fine finishing touch to that dreamy look, we placed a white piano decked up with flowers. The place where guests could meet, greet and click pictures were decorated with beautiful peonies in different hues. They looked like a painting, with their colours creating a vivacious effect of watercolours merging into each other. The place had a tunnel that opened to a staircase, which led people to the ballroom. The ceiling of the tunnel was decorated heavily with tulips which were placed compactly to be in tune with the lush theme of the event.
Floral Decoration for the Staircase
On either side of the staircase, colourful flower decorations were used to entice those coming up and down it. The ballroom was a treat for the senses. The ballroom's ceiling had hanging white wisterias with blush pink Cherry Blossoms and Phalaenopsis that complimented the grandiose crystal chandelier.
Mesmerizing Floral Arrangement for Ballroom Ceiling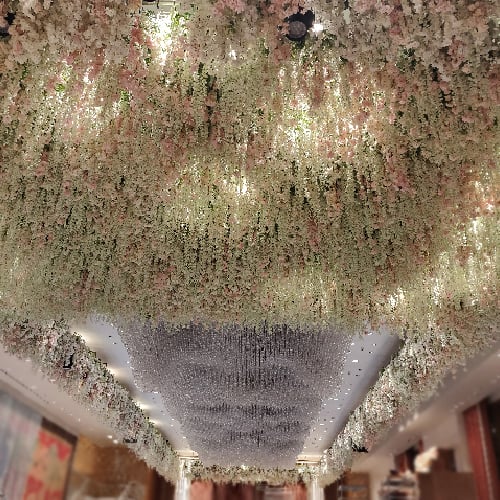 The Vishnu Garden's grand Gazebo was given a fairytale-like look. We created a chandelier made up of flowers! It was created using fuschia pinks and coral palette flowers. The pillars were decorated with the same set of flowers in a spiralled manner.
Floral Decor for Lower Lobby
The lower lobby had an elegant royal touch with cascading Phalaenopsis, Orchids flowing out from the top of the mirrored walls. Complementing it was coral Pink Peonies and rows of Cymbidium Orchids at the bottom lined up alongside the lobby floor on each side.