Spring is here; which is the colour you see outside your home that appeals to you most? You can replicate the look inside your abode with your choice of spring flowers.
There are various spring flowers and in a multitude of colours. Here are some of the beautiful blooms according to colour palettes. Have a look-
Yellow Love
Yellow offers the most exciting tone in spring. It resonates cheerfulness, brightness and positivity that is the soul of the spring season.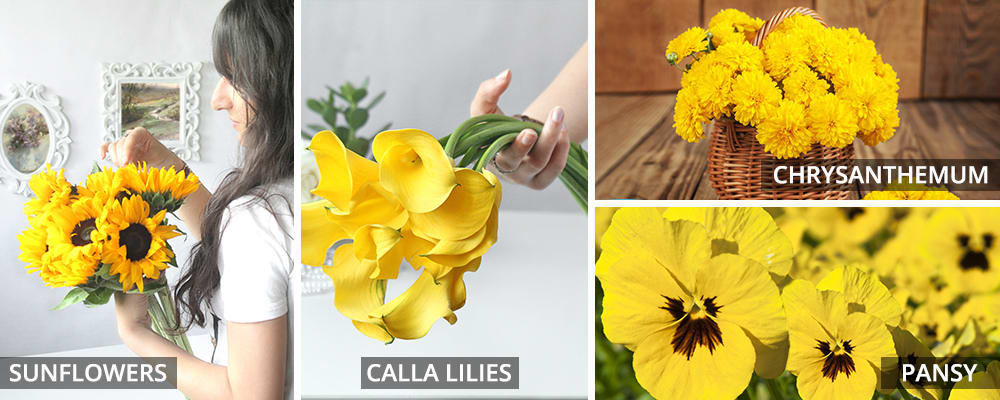 Sunflowers- These beautiful large blooms are actually many tiny flowers clubbed into one. Having over 70 species, sunflowers were the blooms that were planted in the Fukushima nuclear power plant in Japan to absorb nuclear radiation after a tsunami destroyed its reactors.
Calla Lilies- Owing to their unique shape, they are famously called as trumpet lily. Calla lilies are a cluster of many flowers. The outside petal hides a yellow spike called as spadix around which are numerous small flowers huddled together. Calla means 'beautiful' in Greek and so is rightfully the symbol of beauty.
Chrysanthemum- A native to Asia and north-eastern Europe, these blooms were brought to Japan by Buddhist monks in 400 AD. These pretty blooms were so loved by Japanese rulers that they would sit on thrones of these. China and Japan organise a Chrysanthemum festival every year to celebrate these bountiful flowers, while China calls it chrysanthemum festival, Japan celebrates it as Festival of Happiness.
Pansy- Pansies find mention in Shakespeare's play- A Midsummer Night's Dream. In it, a love potion made from pansies was used, referring to their actual use for love potions by Ancient Greeks and Celts. Only a handful of pansies give off a strong sweet scent, yellow pansies being one of them.
Pink Rush
There's no spring without the colour pink! This one is the most seen colour apart from white in the season. Pink signifies deep affection and relaxation. A look at this soft shade and you are bound to feel compassion, admiration, light-heartedness and even contentment.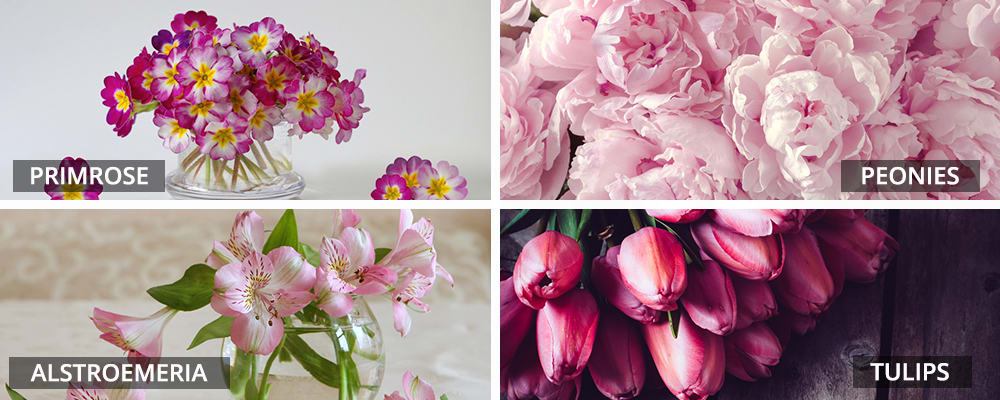 Peony- Peonies are a hot favourite in bouquets. Their bountiful look and heavenly scent makes them a dominating feature in any arrangement and setup. They were first bloomed to treat headaches, asthma and childbirth pain in China and Europe. If taken care of well, peonies can live for as long as 100 years.
Primrose- Primrose means 'early' or 'first' in Latin as it is one of the first flowers to bloom during spring. Every part of the flower, right from its petals to roots is edible and can be used in various food and drink recipes.
Tulips- They are one of the early spring bloomers and also the shortest. Their blooming period lasts for only 3 to7 days. Tulips are loved for their distinct closed bud appearance and their availability in a number of hues, pink and red being the most popular ones due to their symbolism of love and care.
Alstroemeria- This flower is also famously called as Peruvian lily or lily of the Incas. Featuring six petals, this gorgeous bloom is a symbol of friendship. Each one of its petals symbolises a best friend who is- committed, respectful, compassionate, patient, understanding and humorous.
Blue Tinted
In the midst of soft pinks, whites and yellows, blue adds a dash of vibrancy that is hard to miss even when glanced fleetingly. Blue is the shade that is reminiscent of the sky and ocean. It makes one feel freedom, limitlessness and expansiveness like no other.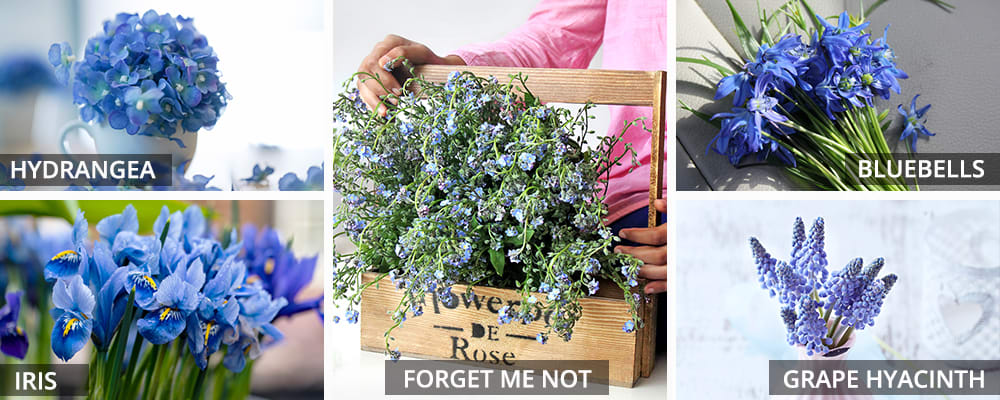 Hydrangea- Known for their unique globe heads, these blossoms make one feel like summer does after winter- cheerful and hopeful. Thus they are also lovingly called as the 'mood creators'. The flower is a symbol of grace, beauty, gratitude, harmony, and peace.
Iris- Iris is one of the most magical flowers, because of its Goddess name and stories. According to legend, there was a rainbow goddess by the name Iris. The flower got its name from her because of its ability to produce flowers in all colours of the rainbow. The goddess was believed to be a messenger of God and the rainbow as the path that connected heaven and earth. So iris most commonly means you have a message for someone.
Grape Hyacinth- Grape hyacinths have a pretty grape like bell heads with a delicious musk scent, hence the Latin name 'Muscari'. The flower has a kind of visual appeal that makes you feel like packing your bags and heading to a location with lots of water, sand, greenery and an open sky.
Bluebells- Bluebells are also called as fairy flowers because of an old myth associated with them. Bluebells have toxins that help them counter the attacks by animals and insects. And scientists are trying to find a remedy for cancer from its poison.
Forget Me Not- Forget me nots are easiest to grow. They require less care and maintenance as they are wildflowers and used to self-feed. That is why, they are always planted in large gardens where they can freely grow whichever they want to feed on things they find.
Red Force
Red symbolises celebration. Even when you are in no mood for it, seeing the beautiful red colour will make you want to tap your feet and sing out loud. It is also the colour of love and passion. The palette of the spring season is usually on the mild and soft side and shades like yellow and red bring a touch of fierceness and fiesta to it.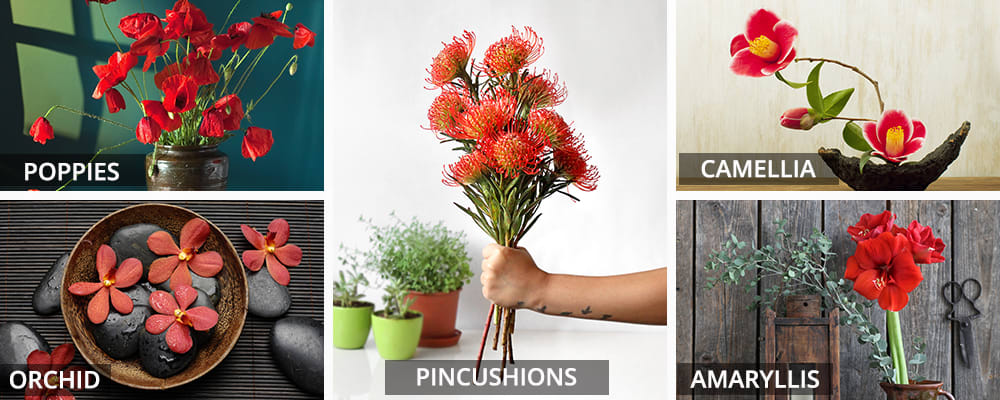 Camellia- A native to eastern and southern Asia, Camellias are the state flowers of Alabama. Camellias symbolise many emotions of love such as devotion, longing, desire, adoration, etc.
Poppies- Poppies have a long blooming period- around June till October. Poppies grow as weeds on any fertile soil. They are available in many shades but their reds are the most popular. These blooms are grown for opium and as sleep draughts for children.
Amaryllis- This flower is known for its distinct velvety petals and leafless stems, which gave it its name, 'Naked Lady'. This flower stands as a symbol of pride and enchanting beauty and also friendship.
Orchid- Orchids stand for luxury and elegance. Orchids have the largest number of species, more than 25,000. Among them, the red mokara orchids are the most simple and alluring. Their big starfish shaped petals with a striking yellow center make them a stunner in mix flower or standalone bouquets.
Pincushions- This atypical South African beauty has the ability to turn heads. Its extravagant thin spiky stalks and a large raised center makes it one of those rare flowers that offer a lofty and an otherworldly feel in your personal space.
Eye Pleasers
Soft neutral shades offer a soothing and relaxing backdrop to the spring season. Whites, greens and peaches with their subtle tones make us wonder about the serenity and calmness of the whole process of death of the old and birth of the new in spring.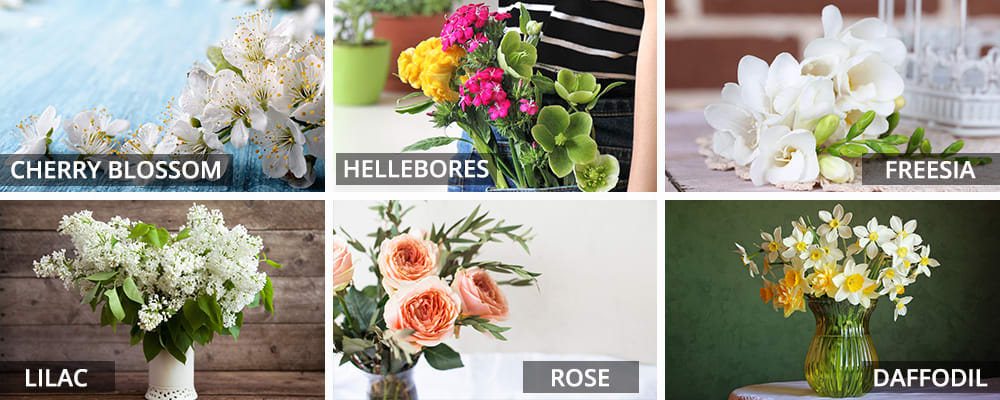 Rose- The owner of enchanted beauty and fragrance, rose is the most gushed-over flower. It finds mention in the Bible, in over 4000 songs, and has even been taken to space in an attempt by researchers to understand how gravity would impact its scent. Every colour of rose has different meaning and peach roses mean modesty and a longing for someone close.
Freesia- Freesias are distinguishable with their vibrant colours and feeble but intoxicating perfume. They have a look that makes one feel nostalgic about the time gone by. Freesias are a symbol of unconditional love, only they are not as famous as roses for it!
Daffodil- The beautiful trumpet-shaped flower symbolises new beginnings because of its early spring blooming. In England, it is famously called as Lent Lily. Though a single daffodil looks tiny, when it comes together with other daffodils to form a bouquet, the sight is immensely beautiful. This quality makes it the 10th wedding anniversary flower as it practically displays the forming of a single beautiful picture from the tiny moments lived over the decade by a couple.
Lilac- The sweet, soft, relaxing fragrance of lilac makes it the much-loved ingredient in both men and women perfumes. Although the flower comes in varied shades, famously in lilac and violets, its subtle shade of white attracts and allures the most.
Cherry Blossom- Cherry blossoms are Japan's national flowers and offer a dramatic background to a place with their attractive and scented florals. And they are edible too! Cherry blossoms are commonly found in shades of pink, but whites look the most beautiful and magnetic.
Hellebores- Hellebore or Helleborus has many medicinal benefits and grows without needing much care and attention. Hellebores come in a variety of shades but their soft green shade makes them truly unique and enticing. They are one of those flowers that bloom through winter as well.