A mother is just like a flower; her two hands (and the invisible ones with which she does multiple things at once) are the soft yet robust petals. Her smile is the fully bloomed flower at dawn. Her warmth is the sweet fragrance of the flower. The day that celebrates the inner beauty, undying love, godly presence and unfathomable sacrifices of a mother is almost here. The second Sunday of May, i.e. 12th May is Mother's Day.
Express Love to Her with Flowers
As we said, mothers are synonyms of flowers. So what can be a better way to celebrate Mother's Day other than with blooms? And did you know, white carnations and lilies are considered universal Mother's Day flowers? Because their look and structure come closest to symbolising the angels in our lives. (The way carnations' petals stay closer to their buds represent a mother's protective nature for her children. Lilies with their large, mystifying petals symbolise beauty, purity and majesty of a mother). But that doesn't mean you cannot express your love to your mom with other flowers. Since Mother's Day comes around springtime, you have a large variety of lively and beautiful blooms to choose from.
Top 8 Luxury Flower Gifts to Say 'Mom I Love You'
Unforgettable 50 Pink Roses Hand Tied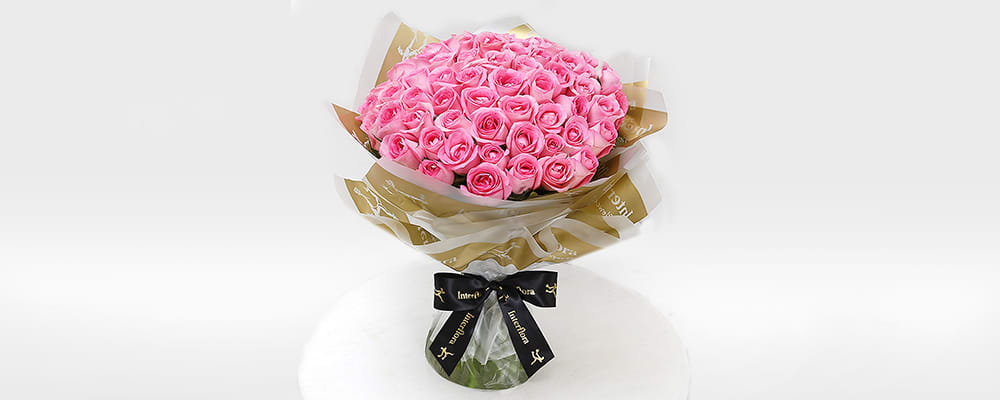 Pink roses stand for gentleness and admiration. There's no one as gentle as a mother who is steeped in empathy, sensitivity and love. This hand-tied bunch of 50 stunning pink roses is a perfect symbol of this aspect of her personality. But before giving in to your emotions, take a moment to think whether she likes these blooms or no, otherwise the gift might become a failure.
Assorted Flowers with Premium Cake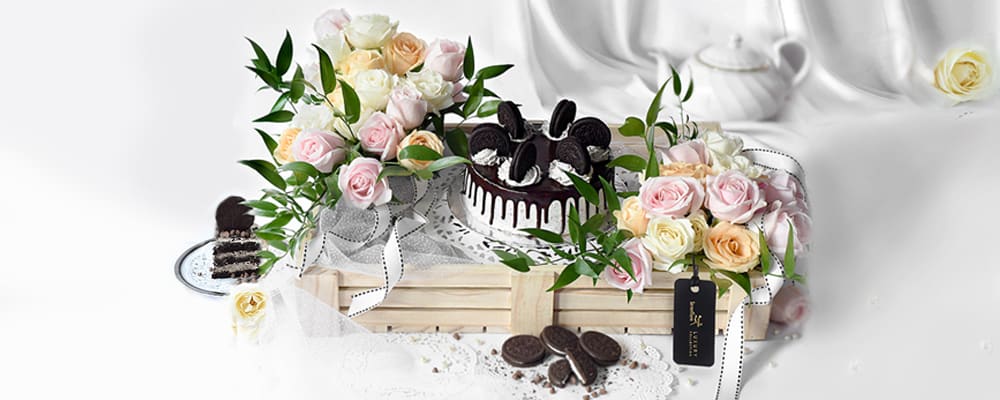 If your mom loves a grand celebration of occasions, then this Mother's Day combo of flowers and cake is the perfect pick for her. This premium flower hamper includes a heart-winning arrangement of assorted roses and a mouth-watering Oreo cake. The different roses in the arrangement include-
White rose- Innocence and purity
Pink Rose- Gentleness, sweetness, elegance
Peach Rose- Humility, to show gratitude
Orange Rose- Enthusiasm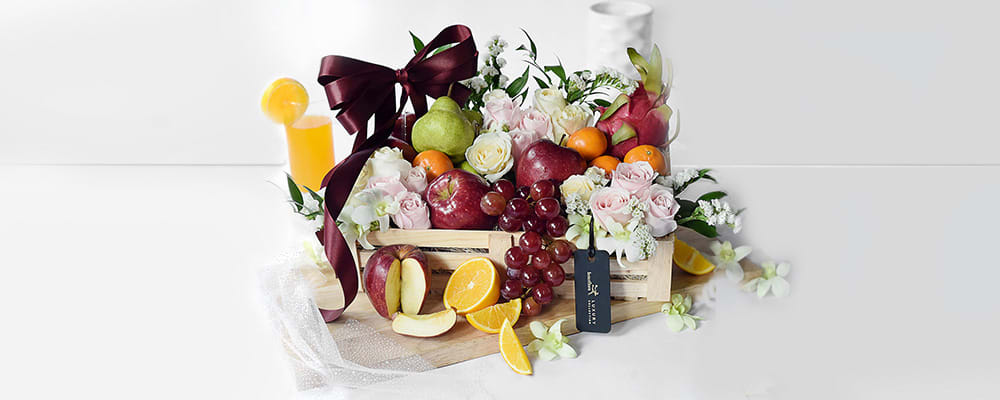 The perfect gift for a health-conscious mother! Give the gift of health with this luxury floral arrangement that comes with fresh fruits. It has beautiful and fragrant flowers and assorted fruits in a beautiful basket. The flowers in this hamper include:
Peach Roses- Humility, to show gratitude
White Roses- Purity
White Orchid- Beauty and innocence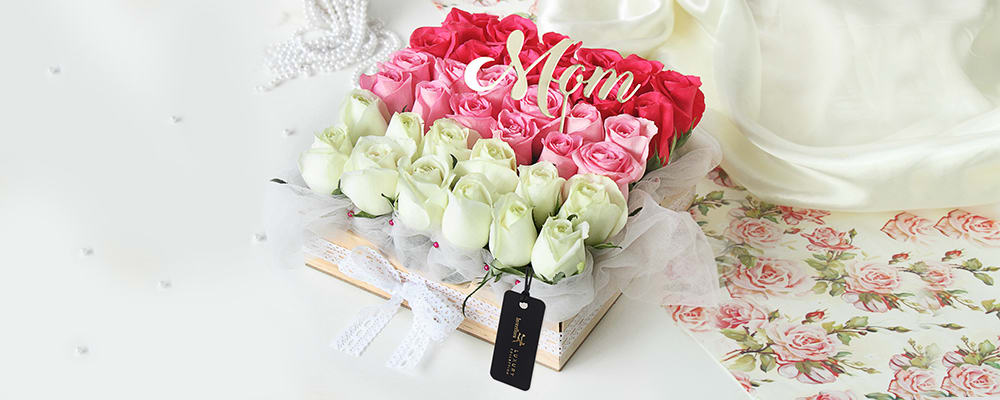 Your mother has filled your life with vibrancy and colours. She is the deserving person for this exotic bouquet of mixed roses. Arranged attractively in a style that is reminiscent of a well-kept garden, this Colours of Bliss bouquet is the perfect way to show love and affection to your mother on Mother's Day. The bouquet also has an attractive large golden Mom tag.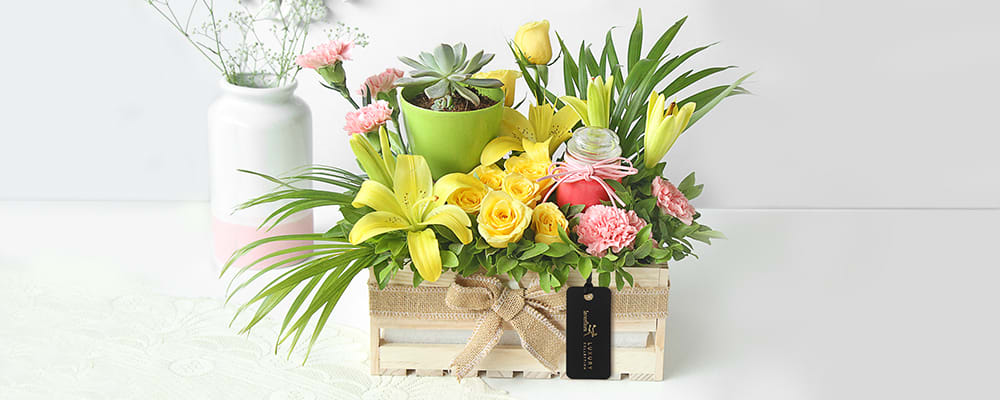 The perfect choice for a mother who just loves nature and it's majestic beauty. Gift your mum a garden in a basket that holds a succulent plant, which will enliven her each day with a perfect Mothers' Day memory. The hamper also includes a scented candle in a pretty jar. Your green fingered mother is surely going to adore this sweet gesture from you.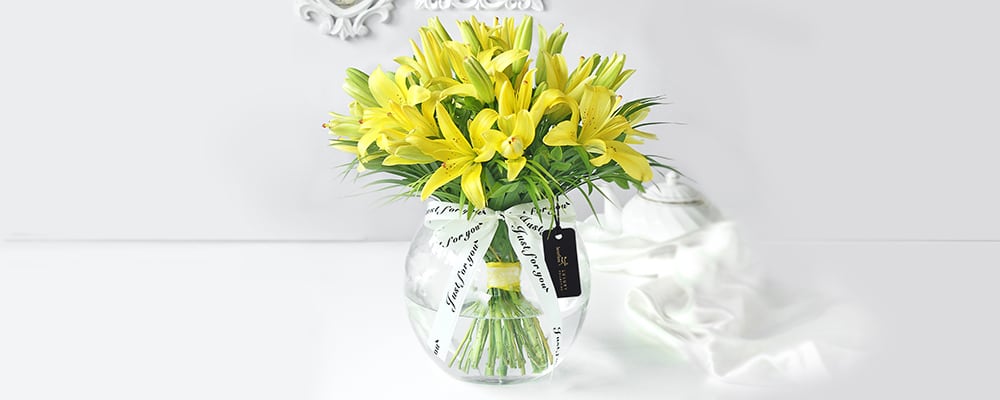 There's no denying it. Your mother is the sunshine of your life. It is because of her that you have positivity and joyful tinted view of the world and situations. Why not give her something as bright and cheerful? This astonishing vase arrangement of yellow lilies is what will bring cheer to her. With these flowers, you will be conveying your thanks to your dear mother as yellow lilies symbolise gratitude. Also, if your mother loves embellishing her home with flower arrangements, this vase will do the job perfectly.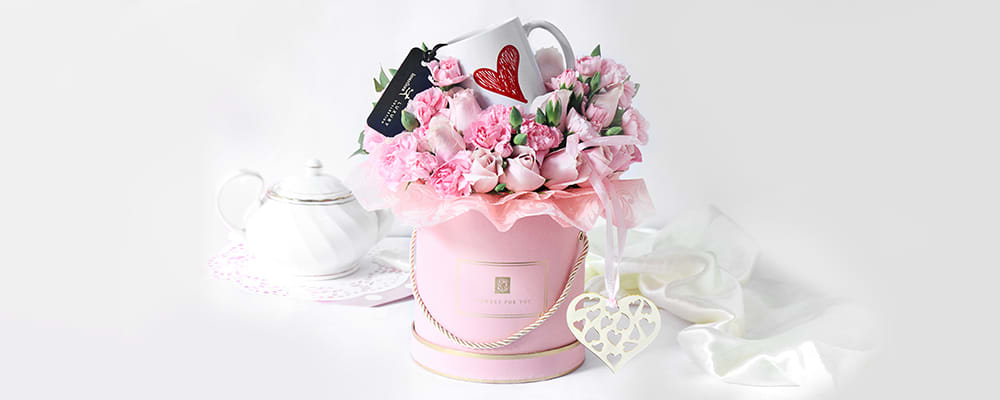 Your mother's love is like a soothing melody. It heals and delights. Give her this Soothing Delight hamper of assorted pink flowers and a heart printed mug, all packed in an attractive cylindrical box. While the flowers' soothing presence will make her feel relaxed and rejuvenated, the beautiful coffee mug will encourage her to take frequent much-needed breaks between her hectic schedule. The bouquet is made up of-
Pink Carnations- Motherly love and thankfulness
Pink Roses- Gentleness, sweetness, elegance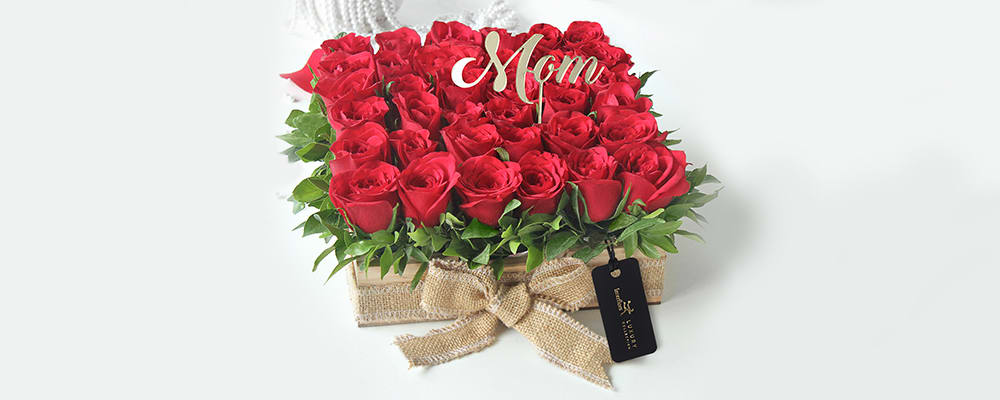 Your love for your mother knows no bound. Her love for you is beyond measure. There is only one flower that stays true to such a deep emotion of love. Yes, a red rose! If a single red rose can create the desired impact, then imagine what a bunch of them can do. Declare your passionate love for your mother and honour her unconditional love for you with this exquisite arrangement of red roses. Adding a special feel to the bouquet is a beautiful golden Mom tag.
After giving her a delightful bouquet hamper, don't forget to give her the most precious gift- your time. Plan a day out with her, stay at home and chat all day long while doing fun activities with her. Whatever you do, make sure you make this Mother's Day memorable.