Peony- The word itself oozes sweetness and prettiness. Peonies are called 'Sho Yu' in Chinese, which means 'Most Beautiful'. They are, what we can call, elegant on your face beauties. Peonies are a symbol of romance, compassion, prosperity and more. Peonies originated in Asia, Europe and Western North America and have been a favourite of many because of their striking appearance and symbolism. Take your pick from their huge variety, as.....
It's Their Season Now!
You may be wondering why we are suddenly talking about peonies. Because it's the period when they come to you. This is their blooming and harvesting season. They are spring flowers and bloom from May to June- a short period but a very fulfilling one for their enthusiasts. Peonies are available in more than 1000 varieties. So you will find peonies with a single row of petals, with semi-double and double flowers.
Many Shades of Peony
Is peony your favourite flower? Combine it with your favourite colour and your joy would no know bounds, right? Then, we have good news for you! You can find peonies in your favourite colour, except if it is blue or black!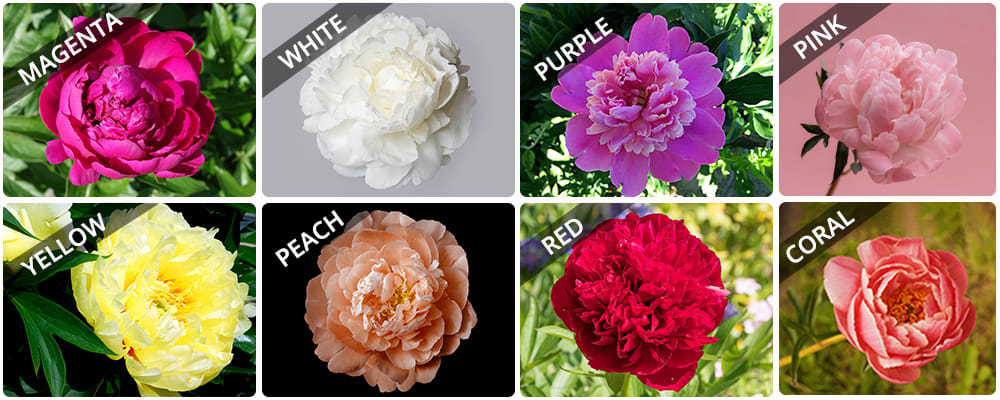 Home Peony Home
How can you decorate your home with peonies? Here's how-
Here are the different decoration ideas you can go for according to the different colour palette of the bloom.
Soft and Mellow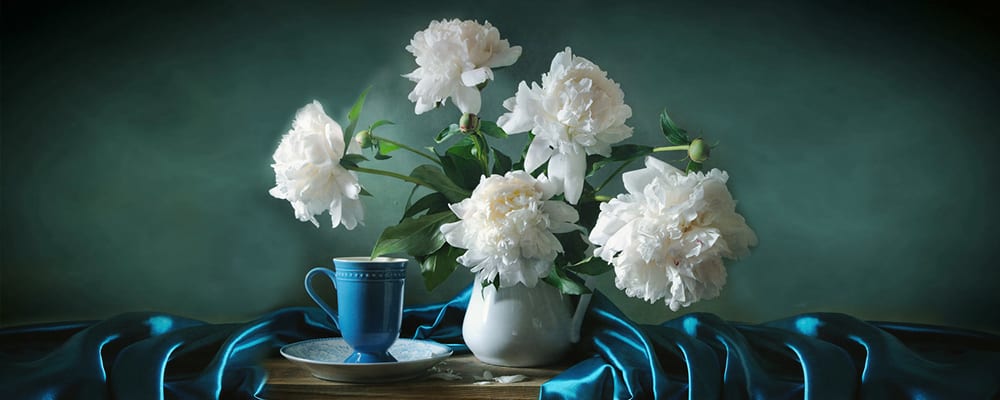 If you love eye-soothing tones, enjoy the calming effect they have on your mind, then we know which colour palette of the flower is your favourite. There are various ways in which you can display the peony in its pale glory in your home. Take the picture for inspiration.
Intense Vibe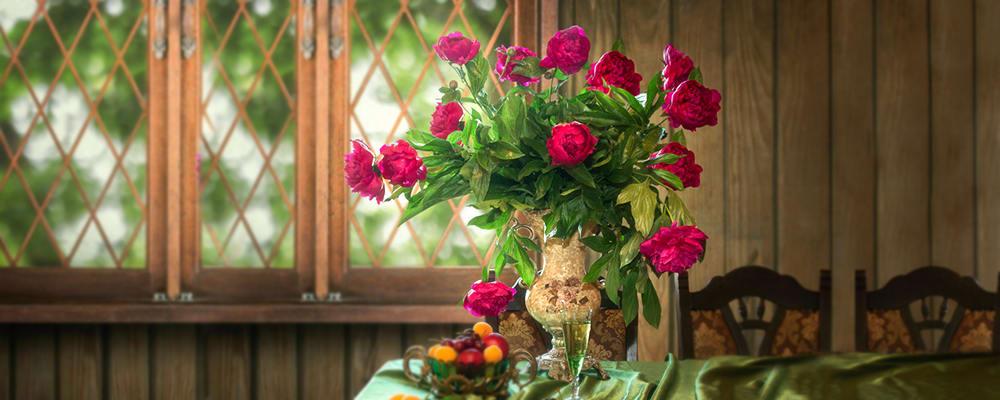 Darker shades of peony spell majesty, opulence and royalty. If you like to give a dramatic and larger than life edge to your home's corner, go for peonies in reds, magentas and purples. Place them in a large, vintage-looking vase for that mesmerising look. Or you could play it down with a basket arrangement to balance out its extraordinary feel.
Gorgeously Attractive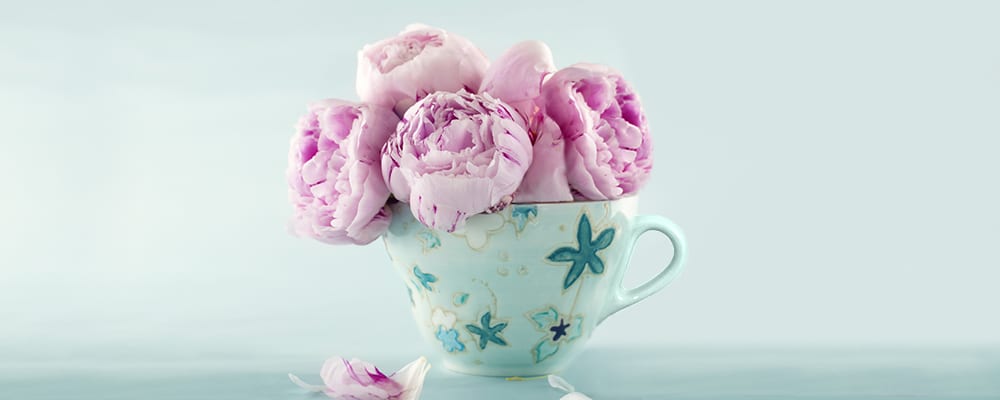 If you love peonies, chances are you love pink peonies the most. This shade of the flower is most adored because of its gorgeous and attractive look. You can arrange them innovatively in a cup as shown in the image or go for a traditional vase look.
Gently Vibrant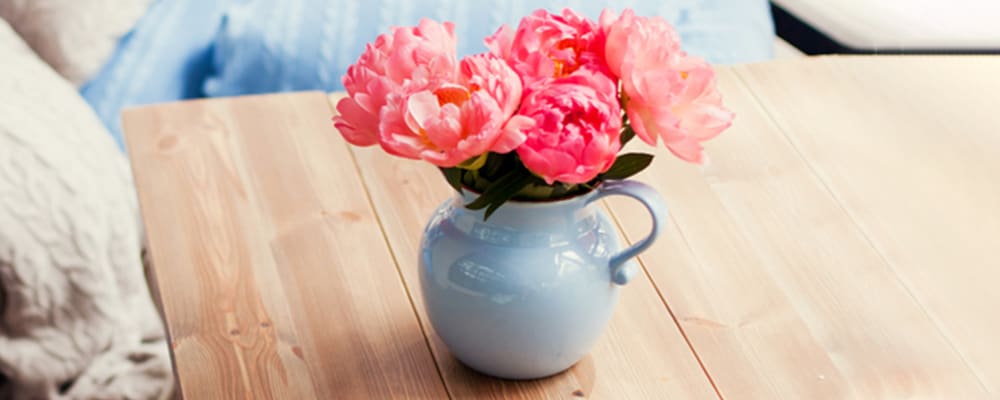 Here comes the showstopper colour of this year. Coral is chosen by the Pantone Color Institute as the Colour of the Year. So most top fashion, technology and other consumer-centric brands are adopting this shade in their branding this year. The institute has chosen this colour for 2019 because of its unique enlivening and energising feel with a softer edge. Time to revamp your space with this colour too, in the form of coral peonies! They will look beautiful in a transparent vase or a contrasting colour vase like the one above.
Assorted Delight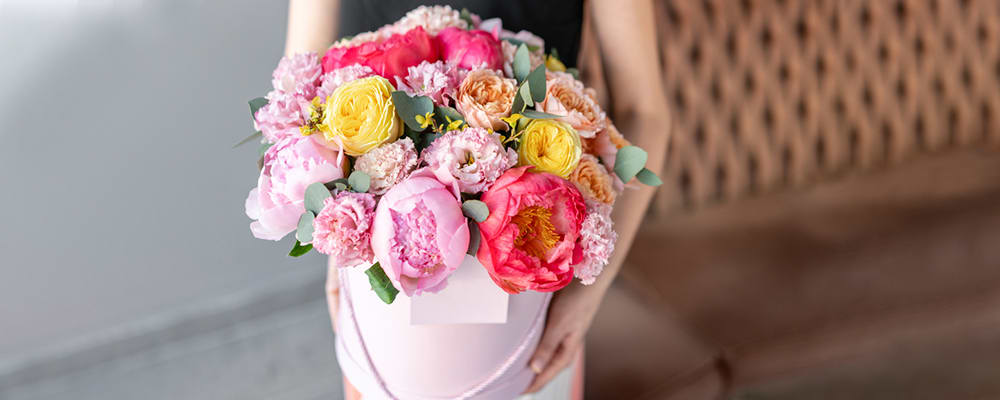 If you fancy all the peonies, you can create a really startling look with them all together. Get mixed peonies in a cylindrical vase and place two to three flowers of each colour to create a large, spilling bouquet. Place it in the living room for that dominating effect.
Scent of Peonies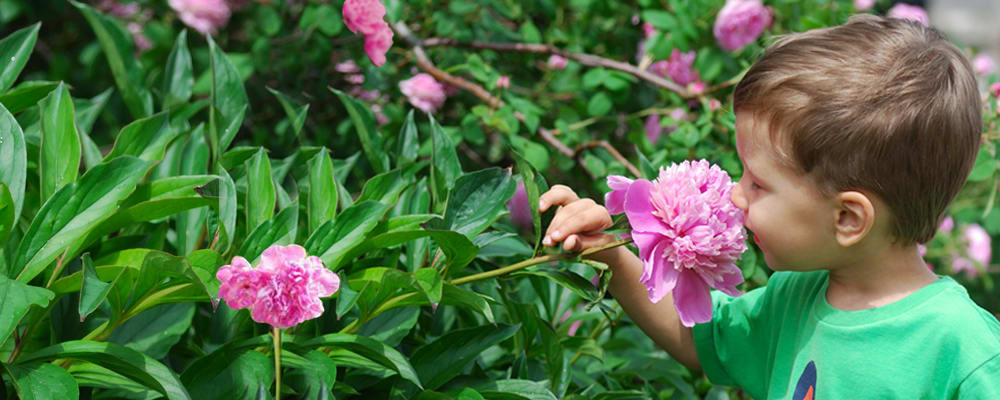 Peonies are not only known for their bountiful beauty but also for their immersive fragrance. Their fragrance is what can be called luxurious, beautiful, and engaging. But not all peonies carry the trademark scent in its full intensity. Pink, white and double-flowered peonies are more fragrant while dark coloured single or semi-double peonies are less fragrant.
Care
It is very easy to care for peonies in a vase. You have to-
-Trim the stems diagonally around 5 cm with a sharp knife. This will ensure the stems drink plenty of water and transfer to the flowers, keeping them well hydrated and as a result, fresh and healthy.
-The hygiene of the vase you will keep your peonies in is very essential. Wash the vase with detergent and fill it with clean, fresh water.
-Change the water every 2 to 3 days or daily. If you are too busy to do that, change it when you see the water is getting dirty.
-Keep the flowers in a place that is cool and receives indirect sunlight. Also, make sure you don't place it near the fruit bowl. That is because fruits give off a gas (ethylene) that shortens the freshness and longevity of the flowers.
Wedding Décor
One flower that is common in spring weddings, both western and Indian, is a peony. It is found in both decorations and bouquets. One reason is because it is a symbol of a happy marriage. Yes, when you give a bouquet of peony to a newly married couple, it means you are wishing them a happy, healthy, prosperous and love-filled life together. They are also the 12th wedding anniversary flowers.
Here are some smashing wedding décor and outfit ideas with peonies that you can definitely try-
Centrepieces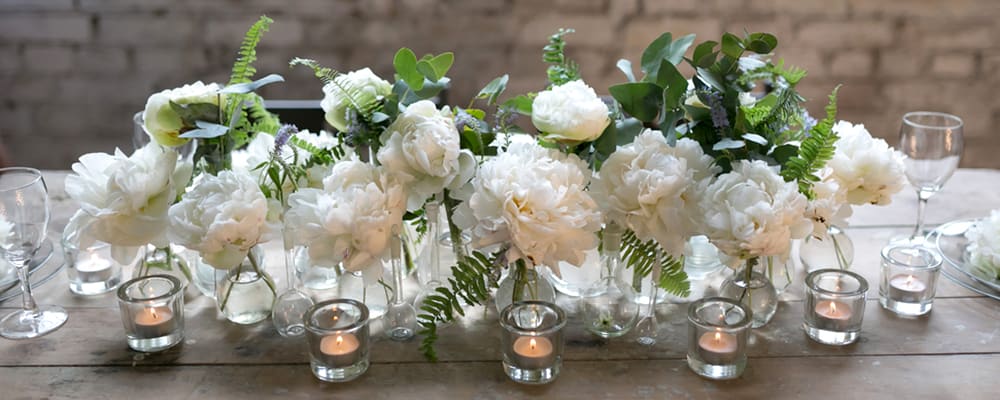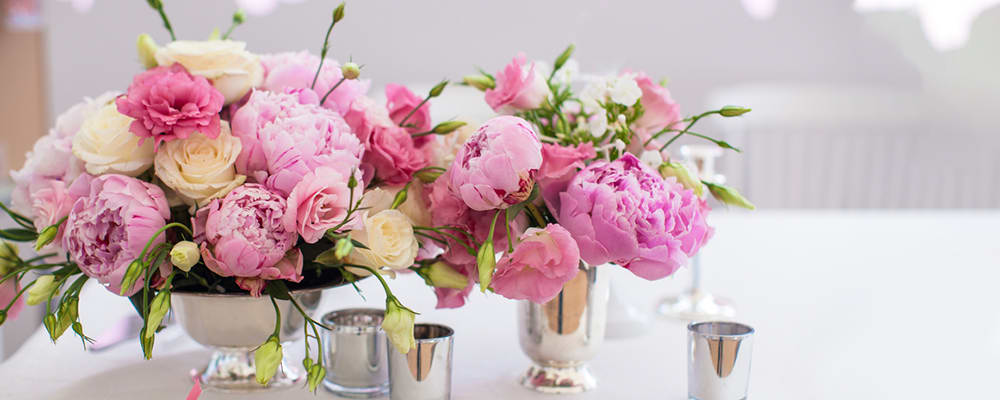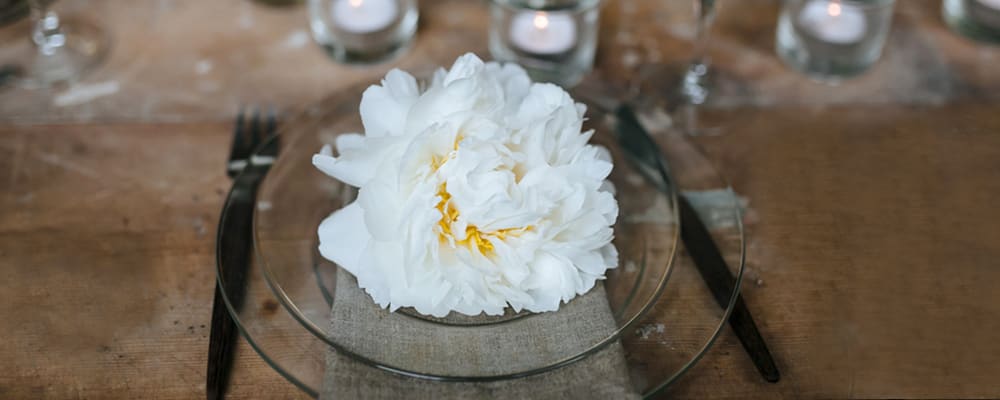 Peonies make great centrepieces. With their largeness and mesmerising beauty, they turn any table attractive and welcoming.
Wedding Outfit Goals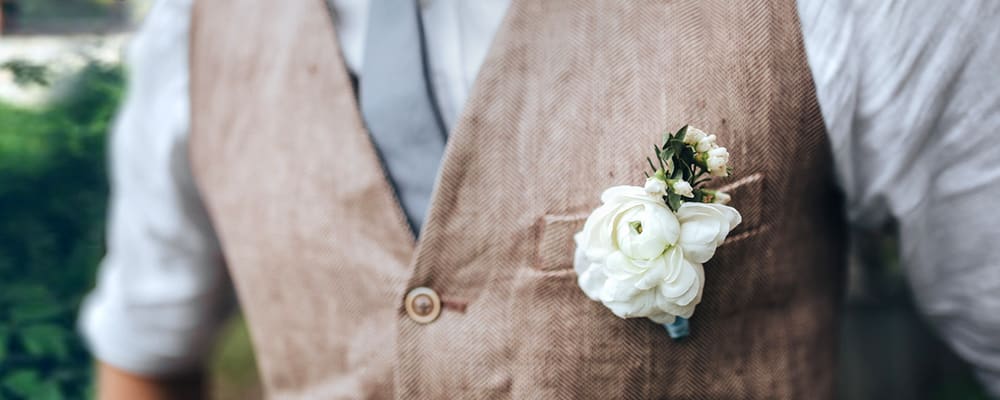 Peonies can not just be part of the décor of the place but the outfits of the bride and groom too!
Bride Bouquet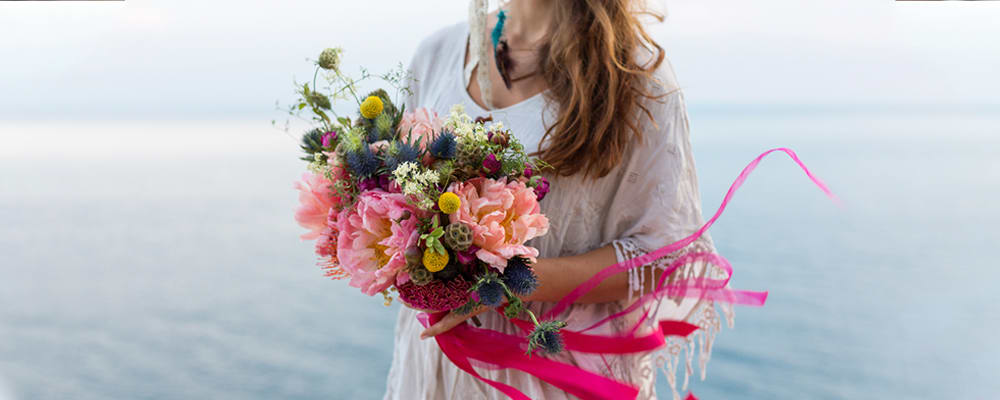 Peonies can give any flower arrangement a rich and festive look like this one does. Two to three peonies are all you need along with other flowers to create an extravagant bridal bouquet.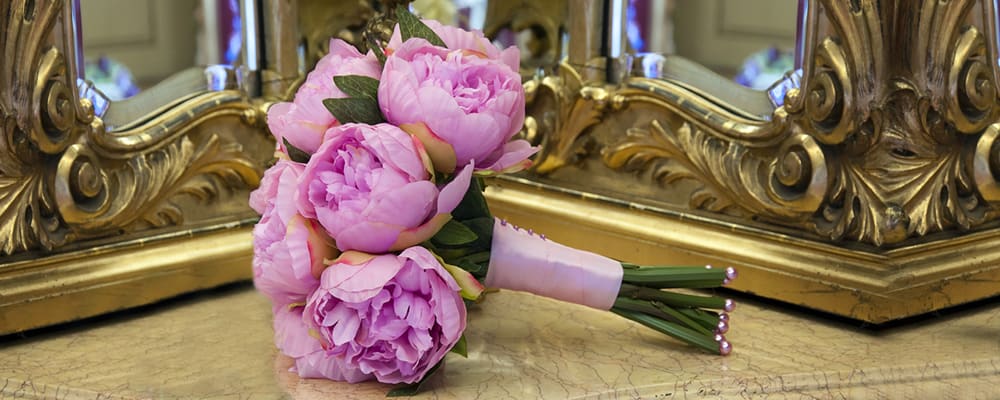 But if the goal is an all peony bouquet, you won't be disappointed. Take inspiration from this pic to create a lean yet bountiful peony bouquet for the bride.