Did you notice the pretty white flowers blooming on the roadside garden on your way to the office?
Did you stop and sniff at the startlingly beautiful and fragrant blossoms on the tree outside your home?
You will get more opportunities to admire and feel rejuvenated with flowers wherever you turn under the open sky because the spring season is here! Spring is, undoubtedly, the most colourful and joyful time of the year. This season starts after winter and ends before summer. The duration of this season is from March to June. This is the season which brings forth the birth of new blooms. You might feel happy to know that many of your favourite flowers come to life in this vibrant season. So it's the right time to add new pots to your growing garden or adorn your beautiful abode with vases filled with these blooming beauties. Here's lending you a helping hand in knowing about the stunning spring flowers you can grow and take care of or give someone as a cheerful gift (think mothers- Mother's Day, 12th May).
Tulips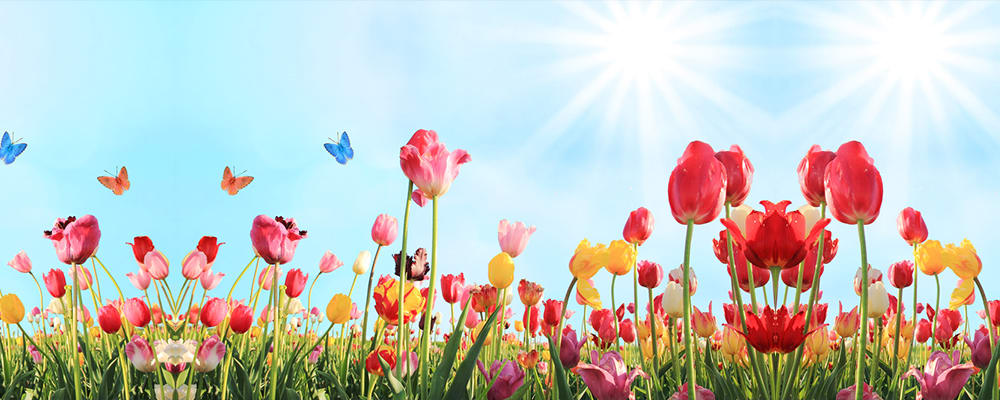 How do you find out whether spring has arrived? Simple! It's when you look at blooming tulips. Tulips are one of the first flowers to open up their petals as soon as spring arrives. Tulips symbolise perfect love, cheerfulness, and luxury. Tulips are a native to Central Asia and Turkey.
Interesting Facts
Tulips once caused 'Tulip mania', where they were the most expensive flowers, even more expensive than people's homes in the Dutch Golden Age.
Tulips are edible and serve as perfect substitutes for onions in recipes.
Care Tips
Pot
Tulips favour full sunlight and dry soil. Cut the tulip buds that have dried out and stopped blooming. Tulips are the easiest and best flowers to grow at home because they don't require fertilisers; their bulbs have all the nutrients they need to grow and flourish even in harsh weather conditions.
Vase
You will need to replace the water in the vase every 3 to 4 days. Simultaneously, you will have to cut the bottoms of the flower stems for continued growth and long life.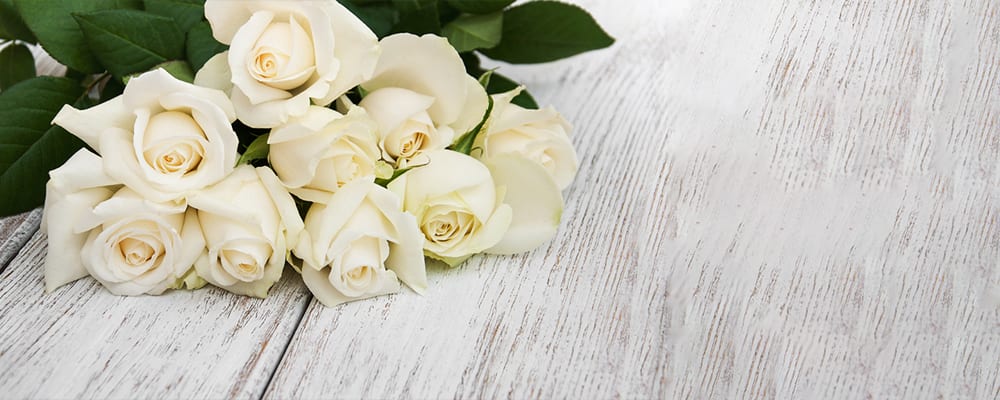 This most beautiful flower also blooms in spring. Roses are the eternal symbols of love and romance. Hence, they are also the most picked flowers for Valentine's Day. Though roses have their roots in China, a large number of its species originated in Asia.
Interesting Facts
The heavenly and soothing scent that roses exude comes from the microscopic perfume glands present in their petals.
Many rose species have edible rose hips and petals, that are a rich source of vitamin C and often used in jams, teas, etc.
Care Tips
Pot
Water the flower regularly and keep it healthy and disease free with regular pruning and fertilising. Also, change the pot and soil every 2 to 3 years to keep the flowers fresh. If the number of flowers blooming starts decreasing over time, it means the plant is not getting enough space to grow. Repot it in a larger container for bountiful blooms.
Vase
Choose a large vase to place the flowers in. Before placing the roses, the stems will need pruning to help them suck more water and stay fresh longer. Make a one-inch diagonal cut. Repeat this every few days for continued freshness. Also, put flower food for nourishment. You can use lemon soda mixture as a substitute for food.
Peony
These spring blooms have their origins in Asia, Europe and Western North America. They are a favourite in wedding bouquets and arrangements. Symbolising romance and a happy marriage, they are the perfect picks as a gift for newlyweds.
Interesting Facts
They are 12th wedding anniversary flowers.
The Chinese name for peonies is "Sho Yu", which means 'Most Beautiful'.
Care Tips
Pot
Peonies like moist soil, so water them whenever the top layer turns dry. Add fertilisers with low-nitrogen formula in the spring to help them bloom without getting infected with pests and diseases. Fertilise them again when they stop blooming to help them re-bloom healthily in the next season.
Vase
You have to keep the vase extra clean so wash it with soap and bleach. Fill it 1/3rd with water and add flower food. If you don't have food, you can replace the water and wash the vase daily to keep the flowers fresh and fully bloomed. You will have to remove the leaves that will be underwater as they will die and affect the flowers too. Cut the stems regularly.
Camellia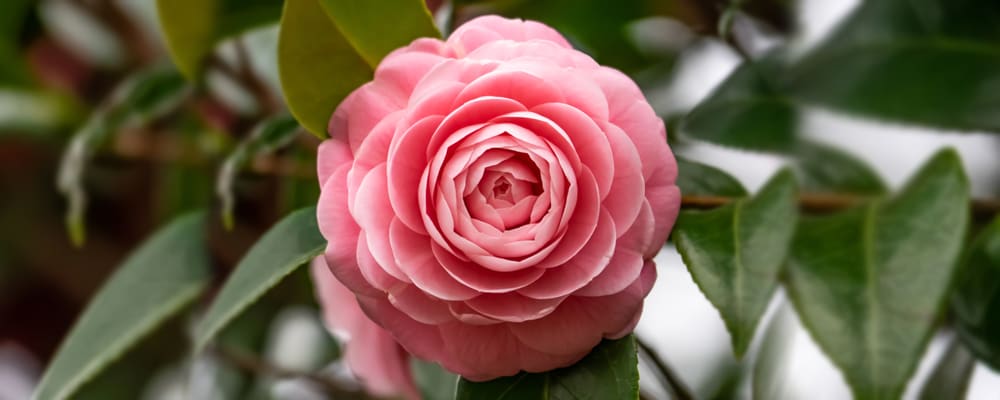 This beautiful flower was born in eastern and southern Asia. It symbolises love, passion, affection, a deep longing for someone and even excellence.
Interesting Facts
They belong to the tea family, Theaceae, and are an essential ingredient in most iced teas.
Care Tips
Pot
Take care to place the pot of camellia flowers in the partial sun as too hot sun can dry them out. If you are keeping them in full sun, ensure you are watering them generously regularly. Use a water-soluble fertiliser with an acidic formula after they are done flowering in the spring season to promote excellent blooms next spring too. Prune the camellias immediately after they bloom and not sometime later because late pruning will damage the new buds that develop for the next blooming season. With time, your camellia plant will need more room to grow; consider repotting them in a larger pot every 2 to 3 years. Also, use new soil for your flowers as the old soil would be depleted of nutrients and would have turned soggy.
Vase
Cut the camellia stems according to the length of the vase to make them fit with ease. Cut the stems in the early morning or late evening. Since these two periods in a day are the coolest, cutting them at these times means they will remain fresher for a longer period. Cut the stems at 45-degree angle and slit each stem to enable them to absorb water more.
Hydrangea

Hydrangeas are distinguished for their cluster of small flowers. The head is a collection of many small flowers which makes them very desirable. This flower has meanings like gratitude, grace, beauty, harmony, peace, love, etc. Hydrangeas originated in southern and eastern Asia, namely India, China, Japan, Korea, the Himalayas, Indonesia, etc.
Interesting Facts
Hydrangeas change colours as they grow. The aluminium ions present in their soil gives them the rare colour changing quality.
Care Tips
Pot
Hydrangeas need water depending on whether they are exposed to partial or full sun. Water them generously if they are kept in full sun and less frequently if kept in partial sun. Plant the hydrangeas in a pot with a drainage hole as water accumulation may cause rotting and diseases. Apply a general-purpose, controlled-release fertiliser to the soil during spring.
Prune the big leaves and dead flowers, once they die after blooming to promote new growth for the next season.
Vase
Cut one inch from the stems and place the flowers in a tall vase filled halfway up with warm water and floral preservative or food. Change water daily. Keep the vase in a cool area away from direct sunlight. Remove any dead leaves or plant debris immediately.
Dianthus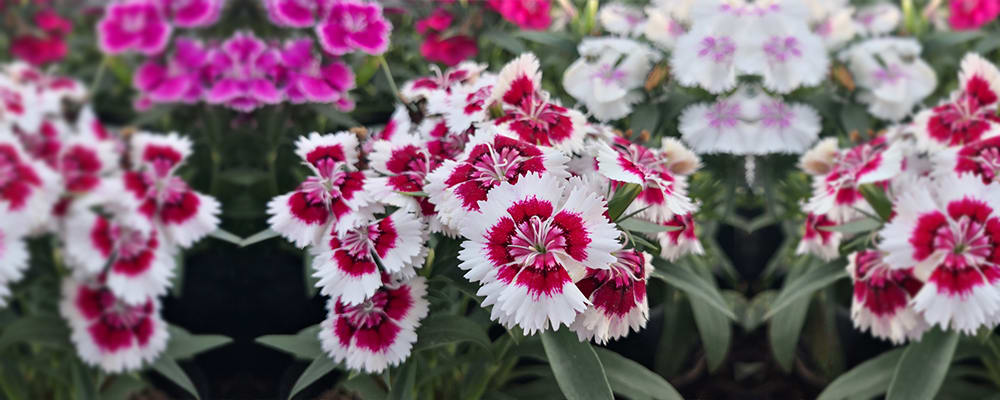 Dianthus is a species of carnations. Dianthus is the Latin name of carnations, which means Godly or Divine Flower- Dios (God) and Anthos (flower). It is also carnations' scientific name. This heavenly flower is a native to Europe and Asia.
Interesting Facts
Dianthus is associated with feelings of admiration, love, and passion.
Since carnations have been Mother's Day flowers for long, you can give these to your Mom or motherly figures in your life on the upcoming Mother's Day (12th May).
Care Tips
Pot
Dianthus blooms well in moist and nutrient-rich soil with full sun. Add mineral-based fertiliser at the onset of the blooming period and after.
Vase
Cut the stems diagonally at one inch. Fill the vase with 4 inches cool and fresh water along with flower food dissolved in it. Look for signs of dead leaves to remove them immediately so they don't affect the growth of the flowers. Change the water after 24 to 48 hours or when the water turns dirty.
Orchid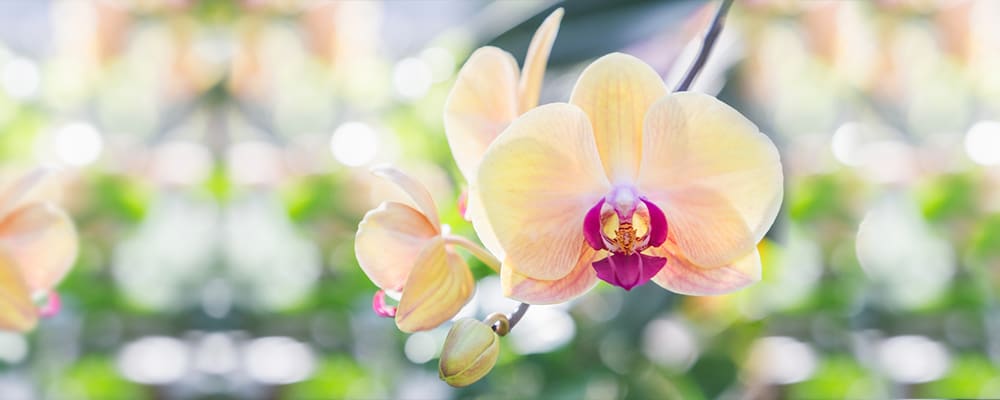 Orchids are considered the most luxurious flowers in the world. Orchids grow mainly in tropical regions of Europe and Asia, namely India, France, Netherlands, Nepal, New Zealand, etc. Orchids convey opulence, strength, and love.
Interesting Facts
The kind of shapes and colours they are available in is second to none. You get orchids in the shape and colour of tiger, bee, monkey, flying duck, butterfly, lady's slippers, dancing girl, and many more. There are also orchids that look more or less like ghosts, angels, and even Dracula!
They were the top choices to show love and affection in the Victorian age and not roses!
Care Tips
Pot
Water them generously but leave them to dry a little sometimes. Offer weekly fertiliser to the plant while it is still blooming, and monthly when they are fully bloomed. Don't add any after they die. Repotting them once after every year may help improve their chances of blooming better in the next season.
Vase
To ensure the vase is completely clean with zero bacteria, wash it with warm water and soap. Cut the stems diagonally with a sharp knife for better water intake. Add flower food or preservative to keep off any bacteria. Keep adding fresh water to the vase as it decreases for fresh and healthy looking orchids day after day.
Lilac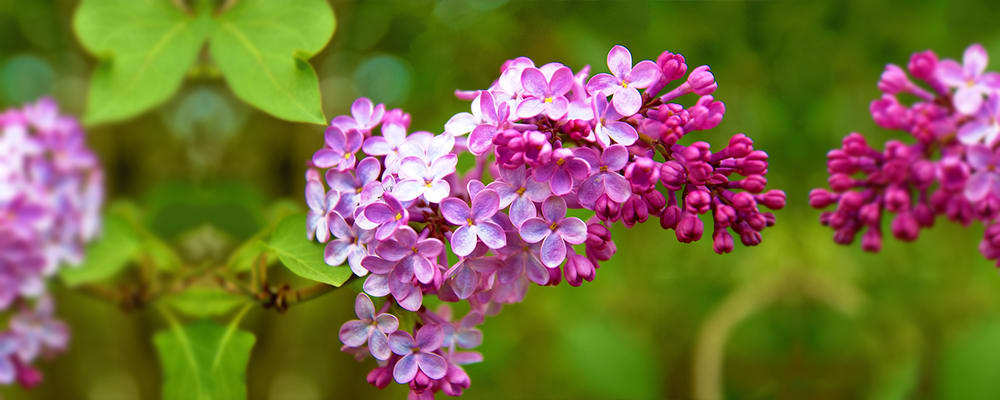 Lilacs are also known as 'Queen of Shrubs' for their unmatched beauty and scent. They are natives to southeastern Europe and eastern Asia.
Interesting Facts
Lilac, especially purple ones, have a very soothing and pleasing scent and are often used in perfumes. Purple lilacs symbolise first love and are picked most by youngsters.
Care Tips
Pot
Lilacs need a lot of space to grow, so use a large container for planting them. Lilacs prefer soil that is low on acidic content. You can lower the acidic level of soil by adding 1 cup of dolomite lime to every 2 cubic feet of the soil. It needs at least 6 hours of sunlight and moist soil.
Vase
Cut the flower stems in the morning when they are full of moisture from the morning dew. As the day progresses, the moisture will dry out and if you cut the dry stems, it will cause the flowers to fade quickly. Prune one inch of the stems at 45 degrees with a sharp knife. Place the flowers in warm water with floral preservative or crushed aspirin to keep the water clean of bacteria.
Iris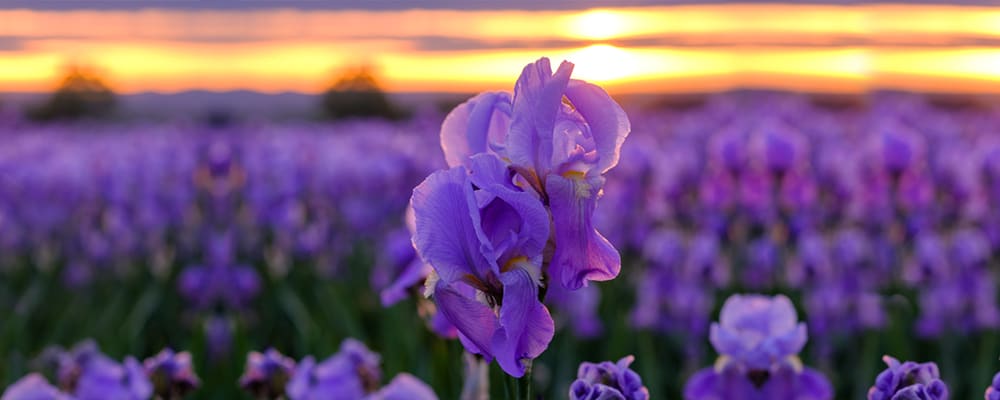 This distinct and beautiful flower belongs to the Middle East, northern Africa, Asia, and North America. It is considered the most regal and luxurious because of its monarchical past. It originated in the temperate parts of Europe and Asia and symbolises faith, hope, strength and wisdom.
Interesting Facts
Irises mean 'rainbow' in Greek, a name they got because of their ability to grow in all kinds of colours.
You will find irises in all kinds of shades, except red!
Care Tips
Pot
Irises thrive in full sun for half the day. They like average fertile, slightly acidic and well-drained soil. After the flowers die, cut them from the stalks. Also, trim the leaves that turn yellow at the bottom to keep diseases and pests at bay. Add a light fertiliser after they bloom for the first time and water them regularly during summer to make them flower better during fall and spring.
Vase
Remove foliage from the stems that will be under the water and cut them an inch diagonally. As stems are from where the flowers will receive water to stay fresh, ensure the passage of water through the stems by cutting them every few days. Also, use flower food to keep off bacteria.
Daffodil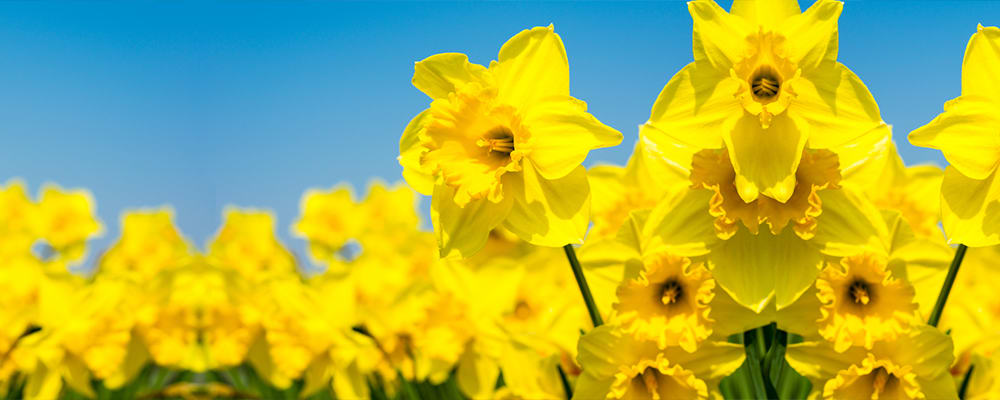 Daffodils are a native to Europe, northern parts of Africa and western parts of Asia and Mediterranean. Because of a legend associated with this flower, also called narcissus, it stands as a symbol of rebirth and new beginnings. Other meaning of the flower includes happiness, good luck, wishing prosperity and wealth for the future, etc.
Interesting Facts
Cultivated since ancient times, daffodil powder, paste, juices, etc. were used to treat baldness, scars, and even to dye hair.
Because of their meaning of cheerfulness, daffodils are the flowers to present to your husband or wife after completing10 happy years of marriage.
Care Tips
Pot
Daffodils like moist soil and full to partial sun. Daffodils can last for years, so you have to make sure their soil is not too watery as this will cause them to die fast. Water them regularly during spring, autumn and winter. When the flowers fade, do not water them for at least 3 to 4 weeks. Don't worry if your daffodils dry and die out in summers, they will bloom in spring and fall- their flowering season. They do not necessarily need fertilisers but just to be sure, offer them light food before and after they sprout buds.
Vase
Cut the stems of the flowers at 45 degrees to help them absorb water more and stay fresh longer. Keep cutting the stems, change the water and add food every few days for fresher and longer lasting daffodils. If your plant food is over, use one teaspoon sugar and two drops of liquid bleach as its substitute. Take care to keep the vase away from sunlight and in a cool place. Cut daffodils are toxic, so avoid keeping them with other flowers.