You might have heard of the Cherry Blossom (Sakura) festival of Japan or the Pasadena Rose Parade in California. Festivals celebrating blooms in foreign countries are quite popular and well known. But most of us are unaware about such festivals existing within our very nation's walls. Throughout the year, different parts of the country's land hold grand and spectacular flower shows. They are not just mere displays of blooms but a celebration consisting of activities that are full of fun and worthy of enjoying with family and friends. Book your tickets, pack your bags and visit the city hosting the most beautiful flower festivals. Here are 7 of the most beautiful and must see ones-
The Rose Festival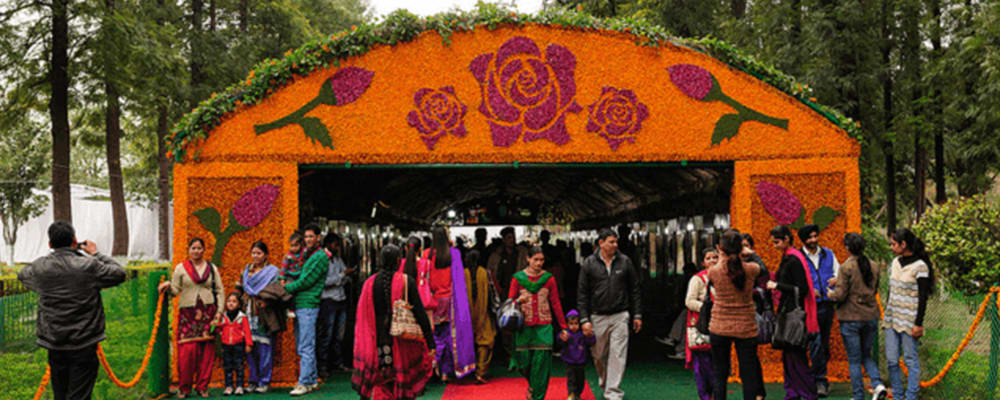 image courtesy- https://chandigarhmetro.com/rose-festival-chandigarh-feb-2016-dates-attractions-event-details/
Place- Chandigarh- Zakir Hussain Rose Garden
Time- February
Number of days- 3
What's on Display- The 40 acre rose garden is planted with different varieties of roses,829 of them. It has hybrid teas rose, miniature rose, climber rose, green rose, blue rose, black rose, and more. One of the highlights of the flower show are roses named after famous world personalities, countries, states, fruits, etc. So you will find a rose named after Zakir Hussain (former Indian president), Queen Elizabeth, John F. Kennedy, Delhi, America, apricot, cherry, and so on, making viewing the flowers a lot more fun and interesting.
What's More- The rose show promises a spectacular day for you and your loved ones with activities like folk dances, Mr and Miss Rose competition, traditional dance competitions, short plays, flower cutting and arrangement contest, and lots more.
The Tulip Festival
Place- Srinagar, Indira Gandhi Memorial Tulip Garden
Time- March to April
Number of Days- (Dates depend on the blooming period of the flowers)
What's on Display- Indira Gandhi Memorial Tulip Garden is Asia's largest garden of tulips. Visiting this garden during the flower festival, you will witness around 70 kinds of tulips, namely standard tulips, double bloom, parrot tulips, fringed tulips, bi-colour standard tulips, Rembrandt, lily-flowering tulips among others. The beautiful backdrop of snow-capped mountains and breathtaking Dal Lake makes the overall viewing experience unforgettable.
What's More- Other than the beauty of the flowers, you can enjoy cultural shows, variety of Kashmiri cuisine, Kashmiri handicrafts, boat races and more. A great advantage of attending this festival is, you get to plan a spontaneous visit to a host of other tourist attractions as they are nearby. So, along with attending The Tulip Festival, you can visit Chashme Shahi Garden, Pari Mahal, Shankaracharya Temple, Mughal Gardens, Hazratbal, Shalimar Bagh and more.
The Flower Show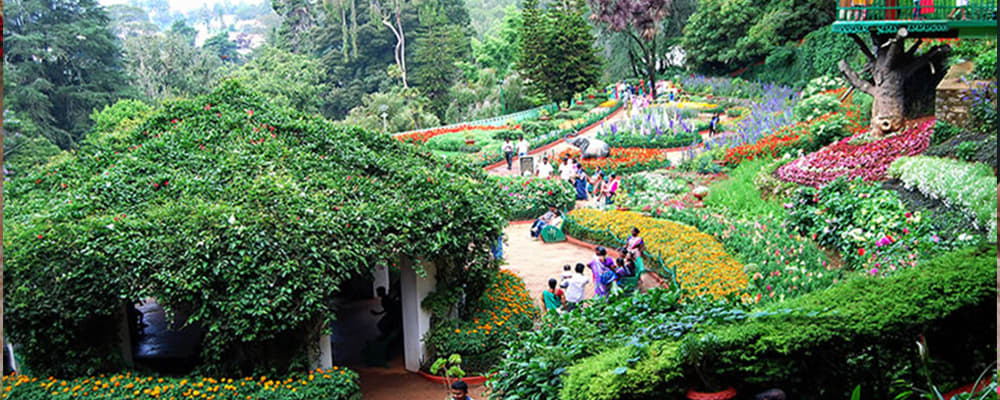 image courtesy- https://www.travel2ooty.com/ooty-flower-show.aspx
Place- Ooty, Government Botanical Garden
Time- May
Number of Days- 3
What's on Display- The flower show displays around 93 kinds of flowers and 42 kinds of potted flowering plants. The flowers on display are carnations, gerberas, liliums, alstroemeria, tulips, iris, orchids, dahlias, among others.
What's More- The highlight of the show, apart from the displayed flowers, are eye-catching installations made from flowers, spices, vegetable and fruits. You will also get to enjoy cultural and musical events, participate in various flower decoration competitions. , etc.
Dasara Flower Show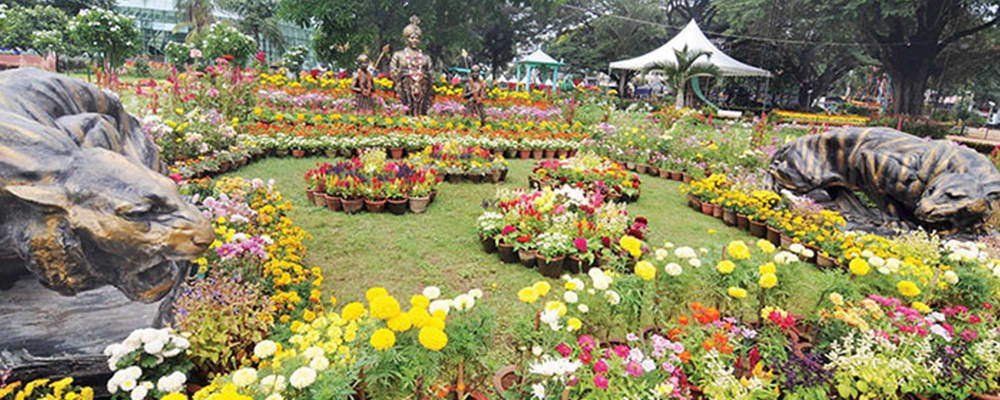 image courtesy- https://starofmysore.com/dasara-flower-show-at-kuppanna-park/
Place- Mysore, Nishad Bagh
Time- September or October
Number of Days- 12
What's on Display- Marvel at huge varieties of roses and orchids displayed artistically along with floral concepts like ikebana, etc. Another major attraction of the show are beautiful formations made from flowers like the Lotus Temple, tree house, dolphins, etc. from its 2018 show.
What's More- Enjoy musical fountains, flower arrangement competition, food festival, art exhibitions, elephant processions, and a lot more.
International Flower Festival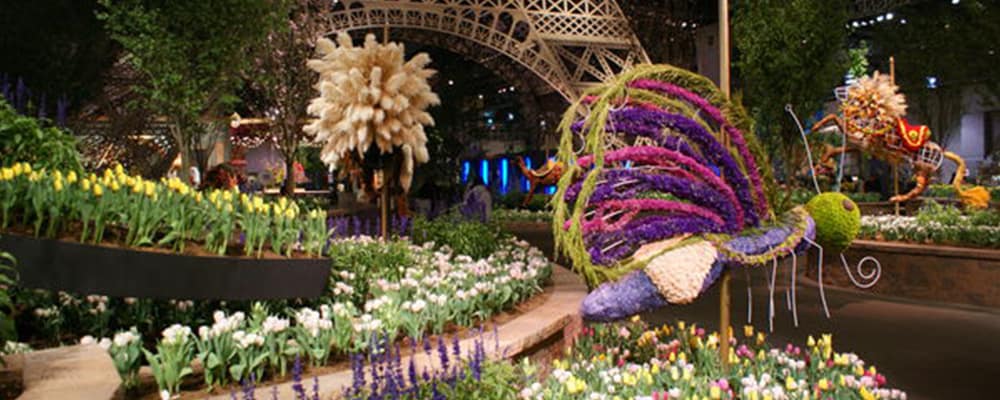 image courtesy- http://www.travelwhistle.com/event/international-flower-festival-gangtok-sikkim-india/
Place- Gangtok, White Hall
Time- April or May
Number of Days- 30
What's on Display- This is considered one of the best and must-see flower festivals in India. The White Hall in Gangtok at this time is an array of colours and indescribable beauty with rare and great varieties of native orchids, rhododendrons, magnolias, gladioli, and foliage and ferns on display.
What's More- There are a host of attractions waiting for you when you visit the city for the festival. There are traditional Sikkimese dances, local arts and crafts exhibitions, white water rafting, local food festival, yak safari, and lots more.
Cherry Blossom Festival (Himalayan cherry blossom)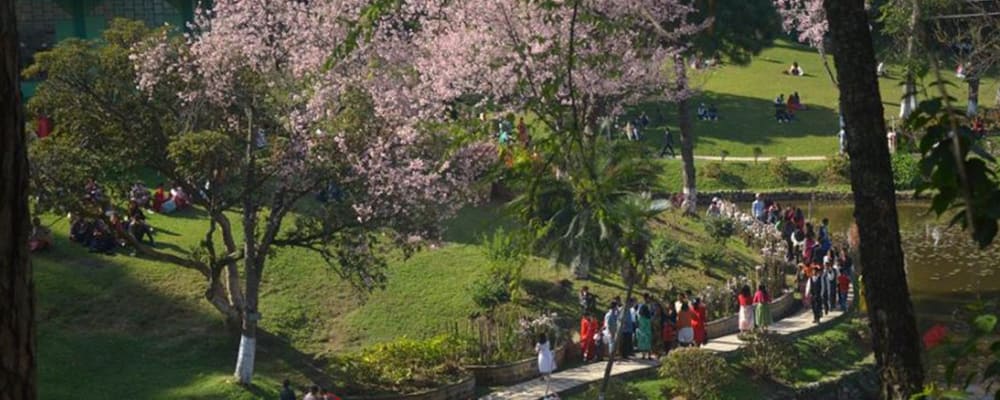 image courtesy- https://www.cntraveller.in/story/indias-cherry-blossom-festival-takes-place-month/#s-cust0
Place- Shillong
Time- November
What's on Display- Every year in November, the streets of Shillong are a striking spectacle, thanks to the fully bloomed Cherry Blossom trees. This festival is also celebrated in Japan and the United States.
What's More- Reading about the other attractions on offer will make you immediately plan a visit to the city for the festival. This festival features guided night walks, fashion shows, rock concerts, stalls showcasing local food, wine and craft, and even Japanese cultural events.
Lalbagh Flower Show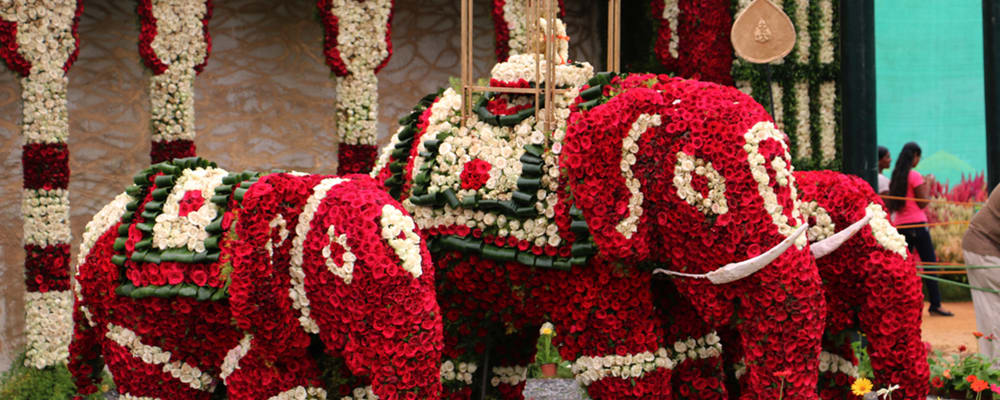 Place- Bangalore, Lalbagh Botanical Garden
Time- Twice a year, on Republic and Independence Day
Number of Days- Both events are held for a week
What's on Display- On display are over 1000 species of well-maintained tropical plants, spellbinding flower arrangements, some of which are in the shape of palaces, monuments, royal animals, and more based on the patriotic theme of the events. The 2019 Lalbagh Flower Show will be based on Mahatma Gandhi, owing to his 150th birth anniversary falling on October this year.
What's More- You can not only look and admire the rich and exotic plants on display but also take them home!